Livni quits knesset, says 'Israel lives atop a volcano'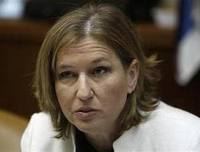 Former foreign minister Tzipi Livni quit parliament on Tuesday, a few weeks after her removal as head of Israel's main opposition party, and accused Israeli leaders of neglecting peace efforts with Palestinians.
"There is an immediate and urgent need to reach a permanent settlement with the Arab world and the Palestinians," Livni said in televised remarks after handing in her letter of resignation as a legislator of the centrist Kadima party.
She said she would remain in public life, leaving open the option of running in the next election, expected within months, after having missed a series of opportunities to become Israel's first woman prime minister since Golda Meir in the 1970s.
"Israel lives atop a volcano. The world clock is ticking. The existence of a Jewish and democratic state, which is what Zionism is about, is under serious threat," said Livni, 53.
Livni, who as foreign minister in a previous Kadima-led government served as Israel's chief peace negotiator, was alluding to what could be the eventual loss of a Jewish majority unless Palestinians in the Israeli-occupied West Bank and in the Gaza Strip achieve a state of their own.
Peace talks collapsed in 2010 after Prime Minister Benjamin Netanyahu of the right-wing Likud party rejected Palestinian demands to extend a 10-month partial moratorium on building in Jewish settlements in the West Bank.
PARTING SHOTS
Defeated in a Kadima leadership election in March by former defense chief Shaul Mofaz, Livni saved her parting shots for members of Netanyahu's government, accusing them of "burying their heads in the sand, dealing with maneuvering and spin, while the threat to Israel only rises".
Livni, a corporate lawyer and a former member of the Mossad intelligence service, fell short in at least two chances to lead the Jewish state.
In 2008, she failed to put together a coalition with ultra-Orthodox Jewish parties after Ehud Olmert of Kadima quit as prime minister in a corruption scandal.
In the ensuing election in 2009, Likud came in second to Kadima. But it was Netanyahu who formed a government with religious factions after Livni proved unable to find any ultra-Orthodox governing partners.
"I do not regret not selling the state to the ultra-Orthodox," she said in her Knesset resignation comments, alluding to state funds often sought by religious leaders in exchange for supporting the government.
Kadima was founded in 2005 by then-prime minister Ariel Sharon. He had bolted from Likud after party allies turned against him over a withdrawal of settlers from Gaza that he had championed and carried out that year.
Livni took over from Olmert as Kadima leader three years later. Opinion polls now predict the centrist party will shrink to a third of its size in Israel's next election because of rebounds in popularity for Likud and the Labour party.
Israeli media have speculated that Livni might return to politics soon to join a newer centrist party founded by popular Israeli entertainer and author Yair Lapid.
Reuters