Weapons-smuggling, infiltrators bedevil Assad regime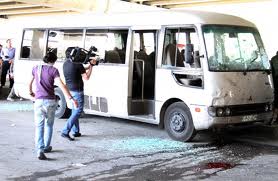 The embattled Syrian regime said it faced challenges from land and sea on Saturday as security forces beat back infiltrators, Lebanese soldiers seized smuggled arms and more clashes flared — another series of blows to a teetering U.N-backed peace plan.
Lebanese military forces seized weapons bound for Syrian rebels from Libya, the state-run Syrian Arab News Agency (SANA), reported Saturday.
The army intercepted a ship in the Mediterranean Sea Friday and found heavy and light weapons aboard Saturday, Lebanon's National News Agency said. Ten crew members and the vessel's agent were arrested after the inspection in Salaata port, north of Beirut, the Lebanese outlet said.
Military forces near the coastal city of Latakia foiled "terrorists" attempting to infiltrate the city by sea, SANA said. Fighting led to the deaths and injuries, but the precise number of casualties was not available.
SANA reported the killings of three security forces and two "terrorists" during clashes in Aleppo province. It also said an "armed terrorist" group in a provincial village in Idlib killed two law enforcement members.
Opposition activists said brazen military offensives unfolded across the country. At least 14 people were killed on Saturday across the country, said the Local Coordination Committees in Syria, an opposition activist group.
U.N. and Arab League envoy Kofi Annan forged a peace plan that calls for President Bashar al-Assad's government and the opposition to cease fire, allow humanitarian groups access to the population, release detainees and start a political dialogue.
But opposition groups and Western governments said Syria has not withdrawn its troops and heavy weapons from population centers, as the government agreed to do as part of the plan, and has continued aggressive acts. Syria blames continued violence on terrorist groups.
"The plan as a whole is failing thus far," State Department Victoria Nuland said on Friday. "Obviously, we can all see that it is the Assad regime that is failing to meet its obligations under the six-point plan."
Even though the cease-fire appears to be unraveling, the United Nations is continuing its efforts to field a team to monitor the peace plan with an aim toward forging stability and ending 13 months of bloodshed.
As of Friday, 13 monitors were in the country of 22 million people. An additional 15 are scheduled to arrive this weekend, and a total of 300 are slated to arrive in the coming month. The United States is not providing monitors, but is helping with funding and logistics.
Syrian activists have accused the United Nations of failing to move quickly to get its monitors into the country, but Nuland said preparations take time.
"You have to take somebody who has experience and training in monitoring, understands U.N. standards, understands their obligations in terms of human rights."
The United Nations has to negotiate and sign contracts with governments sending personnel, which in some cases require parliamentary approval, Nuland said. Then there's the physical transport of the personnel.
Syria has been engulfed in violence since March 2011, when the government started started cracking down on demonstrators who were peacefully protesting al-Assad's regime. The president's family has ruled Syria for 42 years. Some opposition members have since taken up arms against the regime forces.
The United Nations estimates at least 9,000 people have died in the conflict, while opposition activist groups put the death toll at more than 11,000.
CNN cannot independently verify reports of violence and deaths within Syria, as the government has restricted access by most of the international media.
CNN
Photo: In this photo released by the Syrian official news agency SANA, a cameraman films a bus that was damaged by an explosion in the Midan neighborhood in Damascus, Syria, on Friday, April 27, 2012. A suicide bomber blew himself up across the street from a mosque in the Syrian capital Friday, killing several people and wounding 20, state TV said. Thousands of Syrians protested elsewhere to denounce persistent violence by President Bashar Assad's regime.