Lebanon president commends seizure of Syria bound ship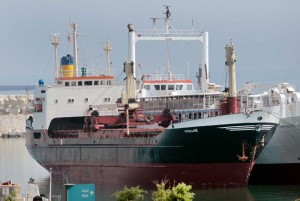 President Michel Suleiman commended on Saturday the interception of Lutfallah II ship believed to be carrying three containers of weapons to Syrian rebels
"This operation is… a manifestation of the government's decision to prevent making Lebanon an open ground for other [countries'] conflicts," the National News Agency quoted Sleiman as saying.
He added that the achievement is part of "efforts to preserve internal civil peace."
His statement comes after the Lebanese army confirmed the incident .
"The army intercepted on Friday Sierra Leone-flagged Lutfallah II ship suspected of carrying weapons and ammunition to Syria," the statement said.
The army also confirmed that it seized 3 containers containing large quantity of heavy, medium and light ammunition.
"The ship was intercepted and the 11 crew members of various Arab and foreign nationalities were detained," the statement said, adding that the military police opened an investigation under the supervision of the competent judicial authority.
The vessel, "Lutfallah II", was intercepted by the navy off Lebanon's northern coast on Friday and towed to a port near the city of Batroun.
The United Nations Interim Force in Lebanon UNIFIL was criticized for not playing a role in intercepting the ship.
As Safir newspaper quoted military sources as questioning " how the ship could have possibly passed by the UNIFIL naval vessels that are deployed along the Lebanese shore and which are primarily responsible for uncovering arms smuggling to Lebanon."
Security sources also wondered why the Israeli navy did not intercept it, knowing that it had detained a ship on April 22 on suspicion that it was smuggling arms from Beirut to Alexandria and later to the Gaza Strip.
On the other hand al-Akhbar newspaper refuted As Safir's report, saying that the army had intercepted the ship in cooperation with UNIFIL.
Lebanese military prosecutor Saqr Saqr told The Associated Press that the Lebanese navy confiscated the weapons that were found aboard a ship off the Lebanese coast. Saqr also said that he ordered on Saturday that the 11-member crew be held for further questioning and requested that the military police and army intelligence to launch the preliminary investigations.
Contents
As Safir quoted military sources as saying that the three containers contained a number of Kalashnikov , M16 rifles, RPGs, antiaircraft weapons and TNT explosives.
Tele Liban reported that the ship came from Libya , docked on its way to Lebanon at Alexandria's port in Egypt and that it is owned by Syrian national Mohammed Khafaja.
The ship has meanwhile been taken to Salaata port where the rest of its cargo has been unloaded and transported to the Jounieh naval base.
Tele Liban also reported that shipping agent of the intercepted ship Ahmed Bernard was arrested and referred to the judiciary.
The Lebanese government is dominated by Hezbollah, Syria's primary ally in Lebanon. Hezbollah has backed the Syrian regime in its crackdown against the pro democracy protesters ever since the uprising began in March 2011, even though it backed all the other revolutions of the Arab Spring in Tunisia, Egypt , Yemen and Bahrain. The Free Syrian Army , also known as 'rebels' was established last July to protect the peaceful demonstrators. Over 11100 Syrians have been killed since the uprising began about 13 months ago according to Human rights groups