New Syrian group adds to disunity among opposition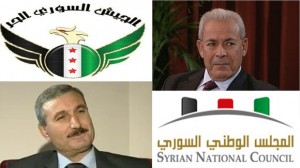 A group of opponents to Syrian President Bashar al-Assad, including members of armed factions in the country, will unveil an interim government on Thursday and claim that unlike the Syrian National Council (SNC) it will have legitimacy in Syria.
Disunity among the Syrian opposition and criticism that the SNC does not represent all strands of society have fed fears that Syria could slide into sectarian conflict, much as Iraq did after the 2003 U.S.-led invasion that toppled Saddam Hussein.
"The failure of SNC to represent the Syrian people as a social structure or revolution has hindered the international community," Nowafi al Dawalibi, a Saudi-based senior representative of the new group told Reuters in an interview.
Most Western and Arab states have given diplomatic backing to the SNC, but shied away from recognizing it, saying it needed to do more to appeal to Syria's minorities.
"We are creating another option. The only option at the moment is the SNC, but there are a lot of people that want to help, who have no trust in this organization," said Dawalibi.
Dawalibi's father Maarouf was Syrian prime minister before the Baath Party and Assad's family took control. He fled Syria in the early 1960s and became an adviser to several Saudi kings.
Nowafi said his group had spoken to French, U.S. and Gulf Arab officials, although he declined to say whether Saudi Arabia backed his organization. A Transitional National Government had already been created, he added.
"Nations are ready to help as long as we are approved by the Syrians inside. The legitimacy comes from Syrians and this government will be approved by those inside Syria," he said.
"Our point of view is that we can't unify the opposition in Syria because we don't have the regulations, laws or land where we can all meet to discuss these matters, so it's impossible to have a legislative body, so we are creating an executive body."
Dawalibi said the "government" would be made up of about 25 ministers inside Syria whose mandate would be to call for air strikes, a no-fly zone and humanitarian corridors.
Five or six other people on the outside would provide finance, weapons, humanitarian aid and coordination.
"Legitimacy comes from the inside," Dawalibi said. "We have support from FSA generals, fighters in Syria, tribal systems and moderate Islamic schools," he said.
He declined to identify the people in Syria for fear of their safety, but said the group was being financed by individuals.
Highlighting further rifts between opposition factions, Dawalibi said the group had the backing of senior Free Syrian Army (FSA) officials that had escaped to Turkey as well as armed groups within Syria.
Among FSA members he cited were Air Force General Fayez Amro, Captain Ammar al-Wawi, a former intelligence officer, and Ahmad Hijazi, the FSA's chief of staff.
However the head of the FSA, Riad al-Asaad, declined to endorse the new group. "We think the flourishing of political blocs that we are seeing is garbling the situation. We're soldiers and we are only concerned with the military situation," he said by telephone from Turkey.
Abdel Baset Seda, a member of the Syrian National Council's (SNC) executive committee, said the expected announcement would only serve to complicate matters.
"This step is not studied well and would not lead to anything," Seda said in Cairo
Reuters