Embarrassed Vogue deletes glamour story on Assad's wife
IT MAY have been the worst-timed magazine article in decades. "Asma al-Assad is glamorous, young and very chic – the freshest and most magnetic of first ladies," Joan Juliet Buck began her profile of Syria's first lady in Vogue last year.
Amid descriptions of Mrs Assad's "energetic grace" and Christian Louboutin shoes, Buck wrote: "The 35-year-old first lady's central mission is to change the mindset of six million Syrians under 18, encourage them to engage in what she calls 'active citizenship'. "
Well, perhaps. But just as Buck's profile appeared, her husband, Bashar al-Assad, began a bloody crackdown on his opponents. About 9000 Syrians have been slaughtered by security forces loyal to Syria's hereditary President.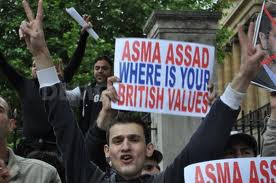 Rather than the progressive, arts-loving, British-educated banker of Buck's telling, Mrs Assad has since emerged as the Marie Antoinette of the Arab Spring. Emails leaked by Syrian opposition groups last month have her shopping online for jewellery, chandeliers and designer shoes in boutiques in Paris and London while her government's violent repression was under way.
Buck's article, in the March 2011 issue of Vogue, contained little hint of the Assad family's history of repression, offering only that Syria is "a country full of shadow zones".
Then the story disappeared. The 3200-word article was scrubbed from Vogue's website, an almost unheard-of step for a mainstream media organisation. Vogue's editors did not respond to calls and emails requesting comment. Buck also did not reply.
The photos that accompanied the article, of Mrs Assad, her husband and two of their children at home in Damascus, were facilitated by an American public-relations firm. The firm, Brown Lloyd James, was paid $US25,000 ($24,100) to set up a photo session with James Nachtwey, the famed war photographer who shot the pictures for Vogue.
This week the company said it began working for the Syrian government "during a thaw" in relations with the US.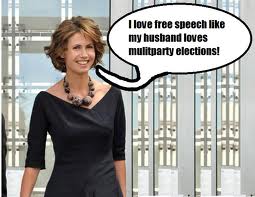 Mrs Assad was briefly in the news again last week when the wives of the British and German ambassadors to the UN released a video and online petition calling on her to use her influence with her husband to end the bloodshed in Syria. She has not replied.
Buck suggested in a radio interview last week that the children in the Vogue photos probably weren't the Assads' real children but decoys planted as a security measure.
Buck said it was "horrifying" to have been near the Assads. Her biggest regret? That Vogue chose to call her profile "A Rose in the Desert".
Washington post