Assad intensifies cyberwar against Qatar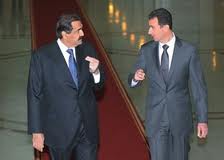 The Qatari prime minister's daughter is arrested in London. Qatar's army chief stages a coup against the emir. Hamad bin Jassim, the prime minister, is sacked. None of these stories is true, but for a while Syria's embattled regime tried to make them credible partly thanks to a group of loyal hackers.
Late on Monday, the so-called Syrian Electronic Army, the cyber activists who spam Facebook and Twitter with pro-government messages, hacked into the Twitter account of Saudi Arabia's al-Arabiya news channel and planted the report of Mr bin Jassim's removal. As al-Arabiya rushed to report that its social networks were infiltrated, the hackers posted news about an explosion at a Qatari natural gasfield.
The cyberwar against Qatar is part of escalating efforts by Bashar al-Assad, Syria's president, to paint the revolt against him as a geopolitical struggle by wealthy Gulf monarchies bent on Syria's destruction, rather than a brutal attempt to put down a popular uprising .
To a certain extent the regional battle is real: Qatar and Saudi Arabia, long-time rivals in the region, have been remarkably unified over Syria, and have taken the harshest line against Mr Assad. The removal of the Syrian strongman, Iran's main ally in the Arab world, would alter the balance of power in the Middle East in the Sunni Gulf monarchies' favour.
Doha and Riyadh have openly backed arming the Syrian opposition, an effort that is likely to accelerate if the current mission of Kofi Annan, the UN and Arab League envoy, fails to produce a peaceful solution to the Syrian crisis. Qatari officials have made no secret of their scepticism towards the Annan mission, saying they expected Mr Assad to manipulate rather than comply with its terms.
"This is a fight to the death now, the Qataris won't relent in trying to get rid of Bashar," says one political analyst familiar with the thinking in Doha.
For Damascus, Qatar appears to be an easier target than Saudi Arabia, perhaps because it is a smaller Arab nation whose foreign policy has often been considered controversial by its neighbours.
Assad regime loyalists have been peddling the conspiracy theory that the unrest in Syria is not an uprising but a Qatari-instigated aggression designed to dominate the country and ensure Qatari access to the Mediterranean Sea for its gas exports.
"It's one of the myths fabricated by the regime, claiming that Qatar wanted to build a gas pipeline through Syria but Bashar refused," says Samir al-Taqi, a Dubai-based Syrian political analyst. "The regime comes up with these theories in order to justify its violence."
Some analysts say the dispute between Syria and Qatar is increasingly bitter because it has also become personal, pitting two ruling families that were close friends against each other. Qatar's emir, Sheikh Hamad bin Khalifa al-Thani, was a big supporter of Mr Assad, lending diplomatic backing and promoting investments in Syria.
While Doha emerged as a champion of Arab uprisings last year, it was more cautious when Syria's revolution erupted in March 2011. The emir was among the first to counsel Mr Assad to introduce political reforms that would douse the fire of the revolt.
"The Qataris were conspicuously quiet in the first couple of months of the uprising and had felt that Bashar was the right man to take Syria into a different era, but then they concluded that he was a big liar," says Salman Sheikh, an analyst at the Brookings Doha Centre, a think-tank. "A lot of what's driving this [Qatari policy] is bitter disappointment."
The relationship between Qatar and Syria was illustrated by hacked emails recently published by the UK's Guardian newspaper. They purportedly included an exchange between Sheikha Mayassa al-Thani, the daughter of the Qatari emir, and Asmara al-Assad, the first lady, which depict the two women as friends growing increasingly apart.
In one email, Sheikha Mayassa advises Mrs Assad to persuade her husband to give up power and suggests the family would be given refuge in Qatar.
"My father regards President Bashar as a friend, despite the current tensions – he always gave him genuine advice; the opportunity for real change and development was lost a long time ago," says Sheikha Mayassa in the email. "Nevertheless, [when] one opportunity closes, others open up – and I hope it's not too late for reflection and coming out of the state of denial."
Financial Times