Obama, Netanyahu at odds over talks with Iran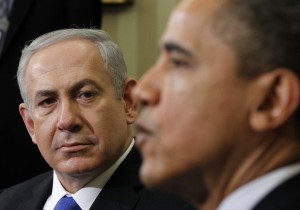 Exposing a rift with Israel, President Obama on Sunday insisted that the U.S. has not "given anything away" in new talks with Iran as he defended his continued push for a diplomatic resolution to the dispute over Tehran's nuclear ambitions.
Mr. Obama said he refused to let the talks turn into a "stalling process," but thought there was still time for diplomacy.
His assessment, delivered at the close of a Latin American summit in Colombia, came after Israeli Prime Minister Benjamin Netanyahu on Sunday had said the U.S. and world powers gave Tehran a "freebie" by agreeing to hold more talks next month.
Mr. Obama shot back: "The notion that somehow we've given something away or a 'freebie' would indicate Iran has gotten something. In fact, they've got some of the toughest sanctions that they're going to be facing coming up in just a few months if they don't take advantage of these talks."
Still, in a news conference here, Mr. Obama warned to Iran, "The clock's ticking."