General Robert Mood quit and returned to Norway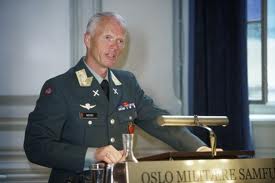 Norwegian Army former Chief of Staff Major-General Robert Mood, 54, who was nominated to head the UN monitors in Syria that will oversee the truce between army and the rebels quit and returned to Norway, Al Arabiya TV reported .
The spokesman of UN and Arab League peace envoy Kofi Annan confirmed that General Mood has left and returned to Noorway.
Six United Nations observers arrived in the capital of Syria on Sunday night to begin monitoring a cease-fire even as violence continued in parts of the country, further fraying the peace plan.
"They've arrived and they will start work tomorrow morning," Kieran Dwyer, a spokesman for the U.N. peacekeeping department, told Agence France-Presse news agency.
The monitors are arriving ahead of a larger group, possibly as many as 250 observers, that could be authorized by Wednesday.
At least 25 people were killed in Syria on Sunday as raids and shooting at demonstrations continued, with 12 of the deaths occurring in Homs, the antigovernment Local Coordination Committees said.
"There are people and observers coming to visit, but the regime doesn't care," said Yazan, an activist in the Khaldiyeh neighborhood of Homs who requested that his full name not be given for safety's sake. "They will keep pounding the city until the observers come to Homs, then they will stop."
Yazan likened the U.N. mission to the failed Arab League monitoring effort of several months ago, which he described as "talks only and a waste of time."