Pakistan to deport bin Laden's widows to Saudi Arabia soon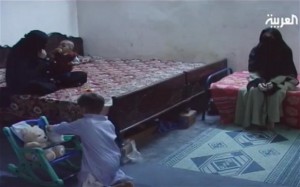 Pakistan will deport Osama bin Laden's three widows and their children to Saudi Arabia next week after they finish a 45-day prison sentence for illegally entering and living in the country, their defense lawyer says.
The family has been in detention since American commandos killed bin Laden last May in a large house in the Pakistani town of Abbottabad, but they were only convicted on April 2.
The Americans left the women and children behind in the house after they flew off with bin Laden's corpse.
The women and children will be deported Wednesday, a day after they finish their sentence, according to their lawyer Mohammed Amir Khalil, the Associated Press reports.
Two of the women are from Saudi Arabia and one is from Yemen. It was unclear why authorities weren't sending the Yemeni woman to her home country.
Saudi Arabia stripped bin Laden of his citizenship in 1994 because of his verbal attacks against the Saudi royal family.
USA today