G8 calls for immediate observer mission to Syria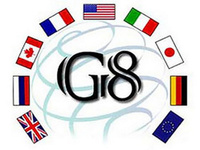 Foreign ministers from the Group of Eight (G8) called for an immediate observer mission to Syria, the group said in a statement on Thursday, Xinhua reported.
"The Ministers support the steps outlined by the Special Envoy and call for urgent action by the UN Security Council to follow through on those steps, including the immediate approval of an advance observer mission," said the statement released after the two-day meeting of G8 foreign ministers ended here.
The ministers called on the Syrian government and all parties to "comply fully" with all aspects of the six-point peace plan proposed by UN-Arab League joint envoy Kofi Annan, said the statement.
Earlier the day, U.S. Secretary of State Hillary Clinton said that G8 welcomed the newly-effective ceasefire between the Syrian government forces and the opposition, and viewed the development as an "important step."
U.S. Ambassador to the UN Susan Rice, whose country holds the rotating presidency of the Security Council this month, said Thursday that UN Security Council will begin consultation on a draft resolution concerning the deployment of an observer mission in Syria "as swiftly as possible."
Trend.az