After attemp on his life Geagea worried about Jumblatt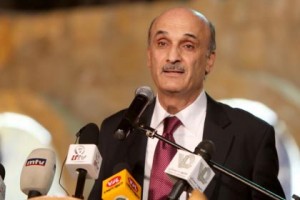 In an interview on Al-Arabiya Lebanese Forces leader Samir Geagea said Thursday that he had to change his lifestyle following his survival of the attempted assassination to prevent the perpetrators from making another bid on his life.
"I changed my lifestyle after the assassination attempt to prevent the perpetrators from making another bid."
Asked whether he feared for the life of Progressive Socialist Party leader MP Walid Jumblat, Geagea said: "In my analysis of how the other camp thinks, yes I'm seriously worried about Jumblatt."
In response to a question about the possible return to civil sttife in Lebanon, on the eve of the 37th anniversary of the civil war that erupted on April 13, 1975, Geagea said:
"I don't think that Lebanon will return to civil war because at least the March 14 camp is keen on preserving civil peace, although sometimes it does that at the expense of its own interests. The other camp is impeding the democratic life with its weapons, but we are willing to wait for more than two years for the sake of preserving security." He expects the 2013 parliamentary elections will change the political equation.
Geagea stressed that "the other camp will not come to the dialogue table before the fall of the Syrian regime and before it abandons its arms."
Geagea said the rival camp and its regional backers ( Iran and Syria) "has an interest" in eliminating him from the political scene adding that his "attempt to put the Christians at the heart of the Arab Spring is an additional factor in the assassination attempt" he survived last week.
He stressed that the attack was the work of a very professional organization and not the work of individuals , but did not name the organization adding , "according to preliminary investigations at least six people are estimated to have taken part in the attack".
Geagea miraculously survived an assassination attempt last week when he was shot at twice by "snipers" as he was walking with bodyguards outside his residence in Maarab. The bullets made two holes in the wall of his house.
Geagea said he is confident that President Michel Suleiman, Prime Minister Najib Miqati, Army Commander General Jean Qahwaji, Internal Security Forces chief Maj. Gen. Ashraf Rifi and ISF's intelligence bureau chief Brig. Gen. Wissam al-Hassan are "serious concerning the investigation" into the attempt on his life but does not feel the same way about officials (of lower ranks).