Ali Shabaan was shot in the heart
By Robert Fisk Shot in the heart. By the Syrians. Forty bullets hit the cameraman's car and that of his fellow crew at Wadi Khaled in north Lebanon
By Robert Fisk in Maifadoun, southern Lebanon
They buried Ali Shabaan as a martyr-reporter yesterday, another journalist of the Syrian war to die in action – but a Lebanese this time, unknown in the West but loved in his little south Lebanon village, not least by the girl to whom he was to have become officially engaged this Saturday.
Fatima Atwi clung to the railings of the balcony over the road from the beautiful village cemetery – all ficus trees and firs – crying tears that splashed on her yellow-and-black blouse. She wore a black veil and was inconsolable. All Shabaan's three sisters could do was embrace her. Shabaan – I met him once, briefly, in 2006, during the Israeli-Hezbollah war – had worked this past weekend on the Lebanese-Syrian border so that he could have next weekend off for his engagement ceremony.
Shot in the heart. By the Syrians. Forty bullets hit the cameraman's car and that of his fellow crew at Wadi Khaled. A quick death, I suppose. A quick funeral, of course, according to Muslim tradition. They said the fatiha prayer to the soul of Shabaan and placed his body in the dark earth of the little cemetery.
Every journalist who dies in violence in Lebanon is called a martyr. Not a bad description of all of those who die trying to report the truth, that subtle narrative that must name the guilty party. But Al-Manar, the television station of the Hezbollah – Syria's ally – did not speak of Shabaan as a "martyr" but as a "victim" of a battle between Syrian troops and "terrorists". As one of Shabaan's employers said yesterday, he was wiped off the news agenda of Hezbollah as a victim of "crossfire", the old explanation of Palestinian deaths at the hands of the Israelis. "But for God's sake," he said, "this wasn't an Israeli television station – this was a Hezbollah station!"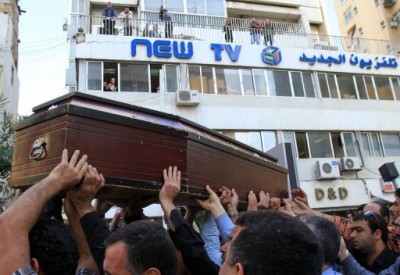 In the Husseinia mosque, a portrait of Imam Moussa Sadr, the Lebanese imam murdered by Muammar Gadaffi's killers in Libya more than three decades ago, was larger than that of Iranian Messers Khomeini and Khamanei. There was a guard of honour from the Lebanese internal security police and a strong clutch of local Shia imams and two representatives of the Hezbollah and a larger clutch of Lebanese journalists who believed that this was the result of – I quote one in particular – "a planned murder, Don Corleone-style". According to them, and to New TV (NTV) officials, Shabaan's killing was "a message".
But what was this message? Tahsin Khayat and his son Karim are overwhelmed. Shabaan's dad is Tahsin Khayat's driver. His sisters were cared for by Karim Khayat's sister and his brother-in-law. In Lebanon, companies really are families. The Khayat family's television station has always carried a Syrian "point of view" – they were even allowed into the Syrian city of Deraa at the beginning of the Syrian revolution and their senior cameraman in Deraa was Shabaan. The Khayat family, all Shia, are demanding a "full investigation" – whatever that means – and they have received the support of the Lebanese President Michel Sleiman.
But why did Shabaan die? He and his crew had passed the Lebanese customs at Wadi Khaled in northern Lebanon on Monday to film the border and shouted across to the Syrian immigration officers that they were filing for New TV on the Lebanese side of the frontier. The story from his colleagues yesterday was straightforward: after they had identified themselves, the crew began filming and were then told to stop by uniformed Syrian troops. These soldiers reportedly shouted: "Go back." The crew was reversing its car when a fusillade of bullets crashed into it – at least 40 hit the vehicle – and Shabaan was hit by the first round. NTV's staff is adamant that at no point did they enter Syrian territory. Thanks to the old post-war 1914-18 French mandate, the border was not delineated as carefully as it might have been – but that's no reason to kill journalists.
There was a range of feeling in Maifadoun yesterday. "We are with the Hezbollah when they fight Israel," one villager said, "but we are not with the Syrians when they kill their people."
Ahmed Shabaan watched the body of his only son placed in the earth. Muslims out here have no coffins. And oh yes, Syria sent its official condolences.
belfasttelegraph.co.uk