Suleiman discusses with Syria's envoy Shaaban's killing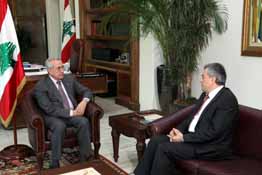 President Michel Suleiman on Wednesday met with Syrian Ambassador to Lebanon Ali Abdel Karim Ali at the Presidential Palace to discuss the killing of Al-Jadeed cameraman Ali Shaaban, National News Agency reported.
The report said that the two men reviewed the ongoing investigation into Shaaban's murder and the measures that are likely to be adopted.
Investigation
Earlier today the Army Command announced on Wednesday that it has launched investigations into the killing of al-Jadeed television cameraman Ali Shaaban.
It said in a statement that it has contacted Syria to inquire about the details of the incident in order to determine who should be held responsible for it and prevent similar accidents from taking place in the future.
The army urged "citizens, journalists in particular, to respect army directions and coordinate their activity with it when dealing with any situation related to danger zones."
"That will ensure the army's immediate intervention" should any security incident develop, it explained.
Expel Syrian envoy
earlier today also there were calls by March 14 MPs for expelling the Syrian envoy
March 14 MP Antoine Saad condemned the attack on an Al-Jadeed television crew by the Syrian troops along the Lebanese-Syrian border and called for expelling Syrian Ambassador to Lebanon and recalling Lebanese Ambassador to Syria Michel Khoury.
" I condemn this flagrant violation committed by the Syrian army against an Al-Jadeed television crew
Shaaban was killed by gunfire coming from Syrian territory in the northern Lebanese town of Wadi Khaled.
Al Jadeed owner Tahseen Khayyat told the station on Monday "the vast number of bullets that riddled the car ( of the all Jadeed team) confirm that the Syrian army attack was "deliberate and was not an accident," adding " we do not need at all an investigation from the Syrian side on this subject "
Syria has informed Lebanese authorities that it holds onto its announcement that "terrorist groups" were responsible for the killing of Shaaban.