Lebanon MP calls for expelling Syria's envoy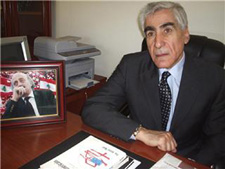 March 14 MP Antoine Saad condemned the attack on an Al-Jadeed television crew by the Syrian troops along the Lebanese-Syrian border and called for expelling Syrian Ambassador to Lebanon Ali Abdel Karim Ali and recalling Lebanese Ambassador to Syria Michel Khoury.
" I condemn this flagrant violation committed by the Syrian army against an Al-Jadeed television crew, which led to the [death] of cameraman Ali Shaaban," National News Agency quoted him as saying.
"The [Syrian] regime has become politically bankrupt and is today trying to silence the media, which revealed its scandals and massacres."
Saad also held the Lebanese cabinet responsible for "covering up Syrian violations against Lebanese territory" and called for dissolving the Syrian-Lebanese Higher Council which is headed by Nasri Khoury.
Saad also called on Lebanese Minister of Foreign Affairs Adnan Mansour to submit a complaint on Syrian "violations" to the UN Security Council.
On Monday, Al-Jadeed television accused the Syrian army of shooting dead its cameraman, Shaaban and wounding two of his colleagues while they were on Lebanon's side of the border.