Annan seeks Iran's help in resolving Syria crisis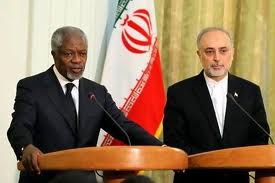 Special envoy Kofi Annan said Wednesday in Tehran that Iran could help solve the crisis in Syria, where activists reported fresh violence as a cease-fire deadline approached.
Iran is one of Syria's strongest allies, and Annan went there to bolster support for his faltering plan to stop the country's year-old slide toward civil war.
"Iran, given its special relations with Syria, can be part of the solution," Annan said during a news conference with Iran's Foreign Minister Ali Akbar Salehi. "The geopolitical location of Syria is such that any miscalculation and error can have unimaginable consequences."
The conflict in Syria is among the most explosive of the Arab Spring, in part because of Syria's allegiances to powerful forces including Lebanon's Hezbollah and Shiite powerhouse Iran.
Syria's regime defied the Tuesday cease-fire deadline that was set in the deal brokered by Annan and launched fresh attacks on rebellious areas.
But Annan insists there is still time to salvage the truce by Thursday, the deadline for the government and the opposition to cease all hostilities under his plan.
There was more violence on Wednesday, putting the truce even deeper in doubt. Syrian troops took control of large parts of villages and towns near the border with Turkey.
The Local Coordination Committees, an activist network, reported shelling of several rebel-held neighborhoods in the central city of Homs. A second network, the Britain-based Syrian Observatory for Human Rights, said "tens of army vehicles" are deploying in the southern town of Maaraba.
Activist Mohammed Abu Nasr said Syrian forces entered the border town of Azaz, about two miles (three kilometers) from the Turkish border and set homes of activists on fire.
In a letter to the U.N. Security Council, obtained by The Associated Press, Annan said Tuesday that Syria has not pulled troops and heavy military equipment out of cities and towns, and that the regime's last-minute conditions put the entire cease-fire at risk.
The council strongly backed Annan, with all 15 members — including Syrian allies China and Russia — approving a media statement expressing "deep concern" at the failure by Damascus to withdraw its troops and heavy equipment.
time