Missing Australian toddler may be in Lebanon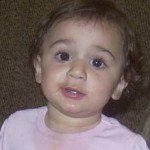 A toddler who disappeared from her Sydney home in 2005 could have been kidnapped and taken out of the country, a coronial inquest has been told.
Rahma El-Dennaoui disappeared from her home on Hill Rd, Lurnea, in Sydney's southwest in November 2005, sparking a major land and air search.
The 20-month-old had been sleeping alongside her sisters in the front room of their home in the early hours of November 10.
Police found extensive cuts to the flyscreen of the window under which she was sleeping.
The NSW government has offered a $250,000 reward for information about the suspected abduction.
Counsel assisting the coroner Robert Bromwich told the inquest on Tuesday that Rahma could have been abducted and then taken to Lebanon.
He said the inquest would hear evidence of a phone call from Lebanon the day before Rahma disappeared 'which may have commented upon her imminent disappearance.'
'(The phone call) may have amounted to some prediction of the abduction of Rahma,' he told the State Coroner's Court in Glebe.
'It may well indicate that she's still alive.'
However, Mr Bromwich also said he could not rule out that the toddler had met with foul play similar to the tragic death of Daniel Morcombe in Queensland.
'An objective inference available is that Rahma … is no longer alive,' Mr Bromwich told the inquest.
A police officer gave evidence and said inquiries had been made with the Department of Immigration and airports but had so far provided no strong leads.
He also said calls to Lebanon had been investigated but that there were 'no leads from that particular process'.
The inquest heard Rahma had been up watching TV until about 2am with her parents, Alyaa and Hosayn El-Dennaoui, on November 9, 2005.
The toddler was then put to bed on a queen-size mattress next to two of her sisters directly underneath an open sliding-glass window covered by a flyscreen.
Mr Bromwich said around 8am the next morning her family discovered Rahma was not in the house and that the flyscreen had been torn.
'Chillingly, the flyscreen under which Rahma had slept had been cut and partially torn … big enough for a child to be lifted through,' he said.
He said Rahma had not been seen since in what he called a 'complete mystery'.
'Someone must have seen her and somebody must know where she was taken. If she is still alive somebody must know where she is now,' he said.
In her evidence, Alyaa El-Dennaoui said she last saw Rahma being carried into her bedroom by Hosayn around 2am.
Ms El-Dennaoui said Hosayn immediately joined her in the couple's bedroom after he placed the toddler in her bed.
She rejected suggestions by counsel assisting, Peggy Dwyer, that Hosayn had come to bed about 3am.
'It's something I cannot forget,' she told the inquest through an interpreter.
Earlier, Deputy State Coroner Sharon Freund described the disappearance as every parent's worst nightmare.
'In this day and age no toddler should go missing in suburban Australia and never be heard of again,' the coroner said.
The inquest continues.
Sky News