Belgium calls for intervention if Assad pursues "path of barbarism"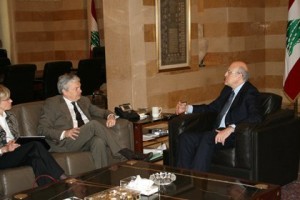 Belgium said Sunday that humanitarian intervention in Syria under the protection of military forces would be needed if the regime of Bashar al-Assad pursues the "path of barbarism".
"The regime has taken the path of barbarism and I trust President Bashar al-Assad less and less," said Belgian Foreign Minister Didier Reynders on TV5 television.
"There is a plan on the table with a deadline, April 10," he added, referring to a formal UN Security Council endorsement of April 10 as the deadline for the Syrian army to withdraw from cities, with a complete halt to violence by all sides 48 hours later.
"If this plan is not respected, then we must take the next step," said Reynders.
"A humanitarian intervention will be necessary and this means an armed military presence," he added.
Reynders said the issue would be discussed at the next Friends of Syria meeting in France.
The international mediator for Syria, Kofi Annan, said on Sunday he was shocked by the "unacceptable" surge in bloodshed there despite the UN deadline.
"Everyone says they back Kofi Annan's plan," said Reynders, calling on China and Russia to take a final stand on the yearlong Syria crisis.
Both countries have drawn international criticism for vetoing two UN Security Council resolutions trying to put an end to the Syria standoff, but they have since backed Annan's peace plan.
Syria on Sunday demanded guarantees that armed groups cease fire before withdrawing its troops from protest hubs as agreed with Annan.
The foreign ministry's request came as a weekend escalation in violence claimed more than 160 lives, most of them civilians, ahead of the UN's Tuesday deadline.
Alarmed by the swelling number of refugees fleeing the unrest, Turkey also warned of unspecified steps if Damascus fails to abide by the deadline.
"We will patiently follow the process until April 10," Prime Minister Recep Tayyip Erdogan was quoted as saying by daily Hurriyet on Sunday.
But "we will implement steps" if violence does not stop after that, he added.
The Turkish premier did not specify what measures his government would take, but several scenarios are being floated by the press, including the setting up of a buffer zone along the border to protect large numbers of refugees.
Photo: Belgian Foreign Minister Didier Reynders (C) with Lebanon PM Nagib Mikati during his visit to Lebanon last February
Expatica.com