Hariri, Jumblatt condemn attempt to "assassinate" Geagea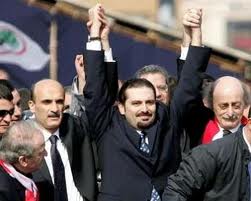 Former Prime Minister Saad Hariri on Wednesday called Lebanese Forces leader Samir Geagea and "condemned the assassination attempt" against him at his Maarab residence.
"The assassination attempt… sought to wipe out a [Lebanese] political symbol," Hariri said in a statement issued following his call
Hariri said that "this terrorist attack, which failed to achieve its goal due to God's will," requires the follow up of Lebanese political and security authorities.
The former premier, whose father former PM Rafik Hariri was assassinated in 2005, voiced his solidarity with Geagea and commitment to the March 14 alliance.
Geagea and Hariri are two main pillars in the March 14 alliance.
Similarly Progressive Socialist party leader MP Walid Jumblatt called Geagea on Wednesday and "condemned the assassination attempt" against him.
Jumblatt stressed the "adherence to the freedom of expression within the framework of the Lebanese democratic system which safeguards pluralism and diversity " and called on the "Lebanese security authorities to assume complete responsibilities to prevent the return of political assassinations "
Jumblatt warned against "any adventures in this area, because that would aggravate the tension and division in Lebanon and push the country toward more risks."
Other Lebanese leaders including President Michel Suleiman, Prime Minister Najib Mikati, Phalange Party leader Amin Gemayel , former PM Fouad siniora and Future bloc MP Bahia Hariri also telephoned the LF leader following the incident to condemn the assassination attempt.
The March 14 forces on Wednesday called on Miqati and Justice Minister Shakib Qortbawi to refer the assassination attempt against Geagea to the U.N.-backed Special Tribunal for Lebanon.
The March 14 General-Secretariat said in a statement it had been following up "over the past hours the circumstances of the assassination attempt against Dr. Samir Geagea in Maarab today."
Photo: File photo of Lebanese Forces leader Samir Geagea (L) Former Prime Minister Saad Hariri ( C) and Progressive Socialist party leader MP Walid Jumblatt during the 3rd anniversary of the commemoration of the assassination of former PM Rafik Hariri