Aoun's political bloc ready to resign from cabinet upon command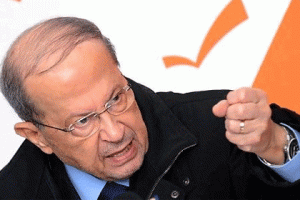 Change and Reform bloc leader MP Michel Aoun said on Tuesday that the bloc ministers will resign "when the time comes".
"When the time comes, we will resign from cabinet. Each battle has its time," Aoun said following the bloc's weekly meeting.
Aoun added that the cabinet was "helpless" and that "it is known who is behind the cabinet's incapacitation."
The Change and Reform bloc leader also commented on the issue of renting power-generating ships saying that delay in the matter was the premier's responsibility.
"Every delay [in renting the ships] is Prime Minister [Najib Mikati's] responsibility, not the responsibility of the ministers or the [ministerial] commission [tasked with looking into the matter]. Mikati is the one delaying the issue."
The cabinet last week agreed to rent power-generating ships for a period of two years renewable up to one year and to launch tenders for building new power plants.
The cabinet had been embroiled in a controversial issue concerning Lebanon's power supply. Energy Minister Gebran Bassil – a Change and Reform bloc minister – and Mikati were at odds over solutions to the country's electricity crisis.
Now Lebanon