STL President in Lebanon, meets with Sleiman and Mikati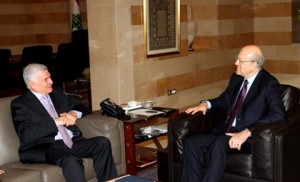 Judge Sir David Baragwanath, President of the Special Tribunal for Lebanon, arrived Sunday in Beirut from Frankfurt for talks with several officials, state-run National News Agency reported.
Baragwanath held separate meetings with Lebanon's President Michel Sleiman and Prime Minister Najib Mikati on Monday, the STL reported on Twitter.
It added that Baragwanath was in Lebanon for meetings with officials, diplomats, the legal community and non-governmental organizations.
In March, sources told Al-Akhbar newspaper the STL president will ink a "memorandum of understanding" with the heads of the Bar Associations in Beirut and Tripoli.
The daily reported that Baragwanath is seeking to allow the families of the victims of the assassination of ex-PM Rafik Hariri, who are included in the first indictment issued by the STL and the expected one, to appoint the attorneys that they want during the proceedings of the trial.
They revealed that Baragwanath and the Lebanese vice president of the STL, Judge Ralph Riachi, held a meeting with a high-ranking Lebanese diplomat at the Lebanese embassy in The Netherlands in February.
The meeting was aimed at setting the agenda of the STL president's expected visit to Lebanon in April, the daily said.
"Baragwanath described the meeting as productive and useful, in order to launch the tribunal's campaign against Hizbullah and its allies, who are questioning its credibility," the sources told the daily.
Baragwanath was elected STL President after Judge Antonio Cassese stepped down in October 2011 on health grounds.
"Baragwanath brings nearly fifty years of legal experience to the Presidency. He has practiced both as a defense and as a prosecution counsel. He has extensive experience in New Zealand as a High Court and Court of Appeal judge. He was also President of the New Zealand Law Commission," the STL has said in a statement.
The tribunal, set up by the U.N. Security Council at the request of a past Lebanese government to try those responsible for the assassination of Hariri in 2005, announced in February that it will put four Hizbullah members on trial even though they have not yet been detained.
Arrest warrants have been issued for four Hizbullah members — Salim Ayyash, Mustafa Badreddine, Hussein Oneissi and Assad Sabra — but they remain at large.
Hizbullah has described the court as a "U.S.-Israeli" tool aimed at targeting the resistance and sowing sectarian strife in the region.
Naharnet, Now Lebanon