Syrian media covers up attack on Assad convoy in Homs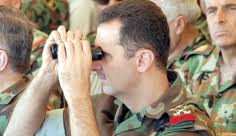 Syrian President Bashar al-Assad stopped his visit to the city of Homs on Tuesday after his cortege was attacked, Al Arabiya reported. Syrian state-run media did not report on the attack. There is no information on whether or not the president was injured.
State television showed Assad meeting a group of local supporters and assuring them that reconstruction efforts would begin within weeks. He also agreed to make available a detailed timetable so that people, he said, can understand when life will return to normal.
Assad visited the troubled Baba Amr neighborhood in Homs on Tuesday, pledging a "return to normal life" for the city.
"Life will return to normal in Baba Amro, better than it was before," Al Arabiya quoted Assad as addressing to his supporters.
The Baba Amro district was devastated after a 26-day siege by pro-government forces.
According to new UN data, over 9,000 people have lost their lives in Syria since the outbreak of an uprising against President Bashar Al-Assad a year ago. The bloodshed has provoked an international outcry, with human rights groups blaming the Syrian government for its crackdown on civilian protesters. The Assad regime insists it has been fighting "armed gangs" and "terrorists" affiliated with al-Qaeda.
Ria Novosti