Lebanese Army denies reports that Hezbollah prevented it from inspecting weapons shipment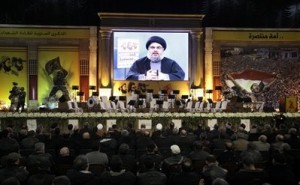 The Lebanese army denied a media report that Hizbullah members have prevented it from inspecting a truck loaded with weapons in the western Bekaa valley. MP Antoine Saad said in remarks published on Sunday that the Lebanese army was stopped by members of Hezbollah from inspecting a truck loaded with drugs in the Bekaa town of Kherbet Kanafar.
He also told Al-Mustaqbal newspaper that the residents of the village who witnessed the incident thought the truck was also carrying weapons.
MTV reported on Saturday that the military and security forces sought to approach the truck, but the Hizbullah members prohibited them. The party consequently cordoned off the area, the TV station said.
The communique urged the media to be accurate and objective while reporting stories linked to the army's mission or any security incident.
The Lebanese army issued a statement on Saturday night denying the story, which was also reported by several media outlets on Saturday.
"The Lebanese army's [work] was not obstructed by any party members, furthermore, the army was [not] even present in the region of [Kherbet Kanafar]," the statement issued by the army said.
Now Lebnaon, Naharnet