Geagea says Aoun and his political party are corrupt hypocrites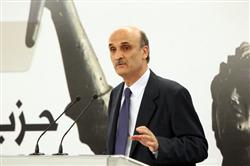 Lebanese Forces leader Samir Geagea launched a scathing attack against the Change and Reform bloc, saying that its ministers in government were corrupt.
"The thing that saddens me the most these days is that those who spoke diligently about corruption for the past 20 years proved to be the most corrupt in Lebanon's history after taking charge of sensitive ministries in the government," Geagea told a delegation of doctors in Meerab, north of Beirut.
During his chat, Geagea listed what he said proves the inability of Change and Reform bloc ministers, headed by Free Patriotic Movement MP Michel Aoun, to run government institutions.
"How is it possible that after months of the Energy Ministry claiming that the project to lease electricity-generating ships has been finalized, the ministerial committee headed by the prime minister that studied [the project] said that it would cost the treasury tens of millions [of dollars], even hundreds of millions?" Geagea asked.
He added that the delay in approving the proposal has doubled the electricity problems faced by the country.
He also directed questions at ministers of the bloc regarding what he described as the deteriorating condition of cell phone lines and the a delay in civil service appointments that has "partially paralyzed the work of the government."
"How does the Change and Reform bloc explain the delay in approving a state budget? Or the overspending of budgets?" Geagea asked.
The LF leader also said that when put to the test, ministers of the rival bloc failed to produce tangible results.
TDS