Aoun "extremely immoral" says Fatfat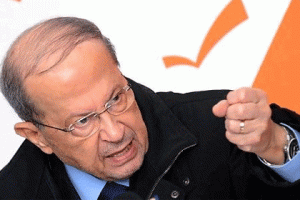 Future bloc MP Ahmad Fatfat said in remarks published on Tuesday that Free Patriotic Movement leader MP Michel Aoun has become "extremely immoral" following the latter's statement on slain former Premier Rafik Hariri.
On Sunday, Aoun slammed those who said that Hariri's assassination freed Lebanon from Syria, adding that it seemed they have forgotten that the "decision to restore Lebanon's sovereignty was made at the end of 2003 and not on March 14, 2005 or February 14, 2005."
Fatfat retorted to Aoun and noted that if it had not been for Hariri's assassination, the FPM leader would not have returned to Lebanon from his exile in France.
"[Aoun's statements] are hallucinations. He is playing the role of a Syrian agent and defending [Syrian President] Bashar al-Assad and the massacres he is committing."
Fatfat added that the Lebanese people "must realize that [Aoun] no longer has political and moral values."
Aoun lobbied for the Syria Accountability and Lebanese Sovereignty Restoration Act, a US Congress bill passed into law on December 12, 2003.
Among other articles, the bill called for ending what the US saw as Syrian "support for terrorism," and ending Syria's presence in Lebanon, which has been in effect since the end of the Lebanese Civil War in 1990.
The FPM leader spent 15 years in exile in France and returned to Beirut in 2005 after the withdrawal of Syrian troops from Lebanon. He then formed an alliance with the Hezbollah-led March 8 coalition and Assad.
Now Lebanon