Tensions rise with Assad's father-in-law in UK over brutal action of regime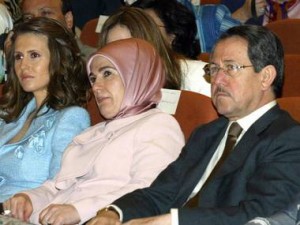 Malik al-Abdeh is one of hundreds of British Syrians who have watched the state killings of protesters in their homeland with horror over the past year.
Six weeks ago his cousin joined the list of 8,000 fatalities, helping the opposition fightback amid the ranks of the Free Syrian Army.
The trauma has not been helped by increasingly fraught relations in his own road in Acton , west London – where he lives opposite the father-in-law of the Syrian dictator.
Dr Fawaz Akhras, the Harley Street cardiologist who is the father of President Bashar Assad's British-born wife, Asma, has always maintained he is a non-political figure, far removed from the Damascus regime. Last week it was alleged he had advised Mr Assad on media relations, while he was also quoted comparing the Syrian uprising to the London riots.
"Before the revolution, things were pretty normal. I used to say hello when he was parking his car," said Mr Al-Abdeh, an activist and editor of pro-democracy television channel Barada who came to Britain in 1986 aged five when his father left Syria for political reasons.
The Independent revealed in November that Dr Akhras's house had been attacked by opposition protesters, and Mr Al-Abdeh said relations in the neighbourhood are prickly because of his family links.
"There has been a lot of animosity toward the Akhras family," he said. "A woman from Homs saw Asma's mother walking down the street as she was driving, so she wound down the window and swore at her."
Acton is home to Britain's largest Arab community; some 16,000 people originate from the Middle East or North Africa , many of them Syrians.
Mr Al-Abdeh said the uprising has exacerbated the "paranoia and suspicion that a lot of Syrians have towards each other because of 40-plus years of the Assad regime… which encouraged you not to trust other Syrians because they might be mukhabarat – they might be secret police or agents writing reports – so you couldn't be open with them".
Concerns for family back home dominate the lives of this community in Acton . At a nearby bakery where Sultan Ali spends his days loading trays of traditional Lebanese pastries into the oven, his mind is 2,000 miles away in Deraa, where his family stay holed up in their house for fear of being shot or bundled into a car and taken away for torture by the security forces.
"If you go out, even just to a shop to buy something, they make a coffin for you," he said. "And if you make it back alive, they praise God."
Acton's Syrians are especially careful what they say, even in the relative safety of England . Sultan Ali asks that The Independent uses this pseudonym and not to photograph his face for fear of word being passed back to Damascus , where he believes orders to intimidate his family would swiftly follow.
"Police came for my uncle in 1978," he added. "They said he'd be gone for five minutes but he ended up in Tadmor prison. We knew he was still alive in 2008 but we've heard nothing since then."
He said the last time he visited Syria he was interrogated for three hours, and even on trips to the London embassy – which he describes as an "Ali Baba cave" – officials have grabbed him by the arm and tried to convince him that everything is fine back home.
Acton has been a good refuge for many years, but the Arab Spring cannot stop stories like these haunting its residents. And in the cafes and supermarkets of the suburb, they are far from unusual.
Over the past year residents have watched and read about the various Middle Eastern revolutions with avid interest, swapping stories over cups of tea and drags of shisha, celebrating the victories against their countries' regimes while also sharing videos of the atrocities still being committed.
Many, especially among the older generation, came to the UK to flee political persecution. For them the uprisings have been particularly significant, and they have not all been mere spectators. Important and intriguing political figures can often be found scattered amongst the diaspora, especially in Acton .
Tunisian activist Rachid Ghannouchi spent 20 years of exile there, leading calls for democracy in his birthcountry. Much of this was done via the Al Mustakillah TV station – based in a humble industrial estate in the Ealing suburb, yet broadcasting to the world – and on finally returning home after the revolution a year ago, he promptly led his Nahda party to the biggest share of the vote in Tunisia 's landmark elections.
Saudi Arabian princess Basma Bint Saud is also now using the town as her base for demands for reform of women's rights in her own country.
But why Acton ? A few Middle Eastern refugees, largely Palestinians and Lebanese, had settled across west London before the 1980s. However, it was the 1985 opening of King Fahad Academy – an independent Islamic school named after its founder, the then-monarch of Saudi Arabia no less – that began attracting more Arab families to this particular area. Indeed, Mr al-Abdeh was a pupil there himself.
Equipped with a two-storey mosque and a minaret, the school's facilities were a draw even for those without children. Soon the neighbourhood's business and social circles became ever-increasing magnets for immigrants escaping trouble in Kuwait , Iraq , Iran , Syria and elsewhere.
Yet despite the events of the past year, this tight-knit but friendly community is a quiet one, barely registering in the national consciousness compared to those of other ethnic groups.
Atallah Said, a Palestinian who has lived in Acton since the Gulf War in 1990, who is now the chairman of the British Arab Association and an Ealing councillor with an OBE to his name, believes this is due to the fears instilled by life in dictatorships.
"At least 50 or 60 per cent of the Arabs who come to Britain are university graduates. They are doctors, engineers, teachers, but it's not easy to find a job in the Middle East if you have the wrong political background. You are blackmailed or don't get jobs because of your political views – this happens all the time in Arab countries." For this reason, he says, British Arabs tend to keep themselves to themselves.
"You find in other ethnic minorities there are a number of members of parliament and councillors. We don't have a single MP, because back home if you interfered in politics you were persecuted, and that's why most parents tell their children don't interfere in politics."
In the Barbar café, colourfully decorated like a Beirut tea house, the staff hail from Egypt , Tunisia , Syria , Lebanon and Iraq . There is a striking unity between the differing Arabic nationalities, manager Hussein Hashim tells me, as they all came for the same reason. "We couldn't get a better life back home, that's why we moved away from friends and family to come here," he says. Asked if the revolutions have brought renewed pride to Acton , he shakes his head. "It's not about pride – they were driven to this. All Arabs feel this way."
Even here, however, talk of the Arab Spring is kept to a minimum between strangers. "People get frustrated when they hear something they don't like," says Sami Ali as he grills a kebab. Having spent his teenage years in a civil defence team during the Lebanese civil war in the 1980s, collecting bodies from the street and keeping his people supplied with bread and water, he knows not to get carried away by the excitement of revolutions. "There is an old saying," he tells me. "Crazy people start revolutions, heroes die in them, and cowards rule afterwards."
The Independent