Mikati's rise and Hariri's slide in Forbes list of billionaires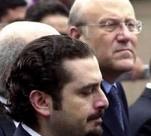 Forbes magazine's annual survey of the world's billionaires for 2012 included on its list six people from Lebanon, – four members from the Hariri family and two members of the Mikati family.
The survey ranked Prime Minister Najib Mikati and his brother Taha Mikati in 377th place with a net worth of $3 billion each, up from 409th place and from $2.8 billion each in 2011.
They were followed by Mr. Bahaa Hariri in 491st place with a fortune of $2.5 billion whose ranking declined from 316th place in 2011.
Former Prime Minister Saad Hariri ranked in 764th place with an estimated fortune of $1.7 billion.
His ranking also regressed in the ranking, from 595th place in 2011.
Also, Ayman Hariri and his brother Fahd Hariri came in 960th place with $1.3 billion each, down from 833rd place and $1.5 billion each last year.
Forbes said the Mikati brothers founded telecommunications firm Investcom in 1982 and sold their stake to South Africa's MTN Group for $5.5 billion in 2006.
The Daily Star