Lebanese-Syrian Brothers Look West
By Eric Pfanner While most winemakers keep a wary eye on the skies and the critics' scores, Karim and Sandro Saadé anxiously watch the news
By Eric Pfanner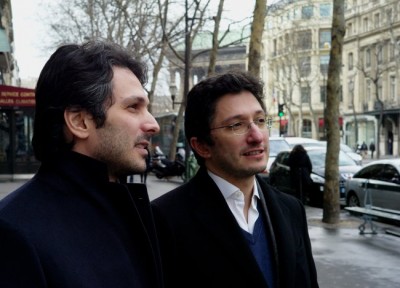 While most winemakers keep a wary eye on the skies and the critics' scores, Karim and Sandro Saadé anxiously watch the news. They have more to worry about than nasty weather or truculent tasters.
The Saadé brothers, scions of a Lebanese-Syrian family of Greek Orthodox origins, whose business interests range from real estate to finance, also oversee a burgeoning wine business. One of their vineyards, Chateau Bargylus, is in Syria, where a revolt against President Bashar al-Assad is raging.
The uprising, and the government's brutal crackdown, have come at an inopportune time for Chateau Bargylus, an ambitious effort to restore wine growing to a region where vineyards thrived in ancient times, before largely disappearing during centuries of Muslim rule. The violence flared up just as the Saadé family, which also owns Chateau Marsyas in Lebanon, was beginning a push to export the wine from its vineyards, which were planted less than a decade ago.
Despite a viticultural tradition dating to the Greeks, the Romans and the Phoenicians, the Middle East is not exactly famous for its wine today. There are a handful of good producers in Lebanon and Israel, but the Saadé brothers say Chateau Bargylus is the only commercial producer in Syria.
Over the years, the Middle Eastern wine that I have encountered most often is Chateau Musar of Lebanon, itself a story of survival. Its owners, the Hochar family, somehow managed to keep producing through most of the civil war from 1975 to 1990. Chateau Musar's red develops a spicy complexity as it ages, its ruby color fading to amber around the edges of the glass. It is quirky and distinctive, but might not suit the tastes of consumers used to the more modern reds of, say, Bordeaux, California or Australia.
"The problem is not necessarily safety or security," Sandro Saadé said. "It's about people wanting to leave."
At Marsyas and Bargylus, the Saadé brothers are trying to do things differently. They want to make wines that can hold their own against the most polished examples from Europe or the New World, but that happen to come from the Middle East. At €25, or $32, or more a bottle, they are priced accordingly.
"We are not trying to make 'Lebanese' wine or 'Syrian' wine," Karim Saadé said. "The ethnic label is something we are trying to avoid. We are just trying to do the best we can with Bargylus and Marsyas."
That meant planting so-called international grape varieties, like cabernet sauvignon, merlot and syrah for the reds and chardonnay and sauvignon blanc for the whites. A well-known consultant from Bordeaux, Stéphane Derenoncourt, was hired to advise the local employees.
I tasted the wines of both estates this month as Karim and Sandro Saadé — 38 and 35, respectively — visited Paris.
As the Saadé brothers would like it, Bargylus and Marsyas are indeed difficult to place. The reds, which make up the bulk of production at each estate, are robust, with ample fruit and a dense tannic structure. The alcohol levels are fairly high — 15 percent for Marsyas and more than 14 percent for Bargylus.
All of this seemed to suggest "New World." Yet there were other things going on in the glasses that made it clear that these wines were not from California, Australia or Chile. Perhaps it was the power of suggestion, but I felt that I could taste the vegetation of the Eastern Mediterranean — cedar and eucalyptus, especially.
The whites are also bold, and also contain more than 14 percent alcohol, but they do not have the oaky, buttery breadth of, say, California chardonnay. Despite their weight, they have an attractive, saline freshness.
The red and white Marsyas were smoother and more approachable than their counterparts from Bargylus, which had an angular side to them. Yet the Bargylus wines also showed more freshness, more complexity and more of that elusive quality that critics like to call minerality. The Bargylus red, in particular, also included an elegant floral component.
The climate probably accounts for some of these differences. Marsyas is in the Bekaa Valley, in the interior of Lebanon, which bakes in the summer sun. The Syrian estate, about 200 kilometers, or 125 miles, to the north, is perched on a mountainside in the Latakia region — not far from some fierce fighting last year.
Bargylus is exposed to fresh sea breezes and the temperatures can be 10 degrees cooler than at Marsyas. In some years, the cabernet at Bargylus has not been picked until November — a month or so after the harvest typically ends in Bordeaux.
While both Bargylus and Marsyas are promising, it would be nice to see a little more finesse and a bit less power. Some of that may come as the vineyards mature. It will also be interesting to see how these wines, especially the reds, age. Blends of syrah, a Rhône Valley grape, with Bordeaux varieties like cabernet sauvignon and merlot can take a while to bind together.
The truly surprising thing, with Bargylus at least, is that it exists at all.
In the 1950s and '60s, agricultural land in Syria was redistributed to small farmers. To assemble the Bargylus estate of 20 hectares, or eight acres, the Saadé family had to buy a number of small parcels and persuade the authorities to approve their winemaking project.
While the Orthodox church and other growers have been permitted to make small amounts of wine for domestic use, Bargylus is probably the first Syrian project — in modern times, at least — to make high-quality wine for export.
Karim and Sandro Saadé say that establishing vineyards in Syria and Lebanon was a longstanding ambition of their father, Johnny, chairman of the Beirut-based family business, Johnny R. Saade Holdings.
In 2005, after assembling the vineyards, the family approached Mr. Derenoncourt, who works with Bordeaux chateaus like Canon La Gaffelière and Smith Haut Lafitte, as well as owning his own estate in the Napa Valley of California. He agreed to serve as a consultant to the projects in Lebanon and Syria, having been particularly struck by the potential of the latter.
"I immediately fell in love with Bargylus," he said. "The terroir is extremely interesting."
Mr. Derenoncourt said he visited the Middle East about six times a year. Since last year he has been unable to travel to Syria, but has kept in touch with the Bargylus staff through e-mail, advising them on matters such as when to harvest by looking at photos, and by sampling grapes delivered to him at Marsyas in Lebanon.
Despite the violence in Syria, the Saadé brothers are pushing ahead. Anticipating supply disruptions, they have stocked two vintages worth of bottles and corks at the property. They are doing the best they can to keep the Bargylus staff — about 15 permanent employees and 60 or so seasonal workers — intact.
"The problem is not necessarily safety or security," Sandro Saadé said. "It's about people wanting to leave."
Although only a handful of vintages of Marsyas and Bargylus have been produced, the wines have found their way onto some prestigious wine lists.
They are sold at restaurants like Gordon Ramsay in London, and at shops like Lavinia in Paris. They are not, for now, exported to the United States, though the Saadé brothers are looking for new markets.
"The adventure is just starting," Karim Saadé said.
The brothers decline to take sides in the conflict that is tearing the country apart. Yet they insist that even if they had had an inkling a decade ago about what is happening today, they would have gone ahead with their vineyard project.
"We are a family from Syria and Lebanon," Karim Saadé said. "We have a house in Syria. Yes, of course, we would do it all again."
New York Times