STL president suspends Hariri assassination trial, refuses to indict Hezbollah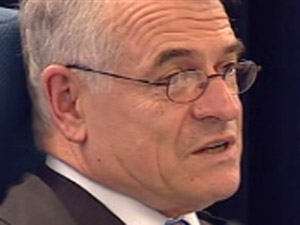 A judge at the U.N.-backed court investigating the 2005 assassination of former Lebanese Prime Minister Rafik Hariri has decided to suspend the proceedings and has refused to expand the indictment against four members of the Hezbollah Shiite militia charged in the truck bombing.
The President of the Special Tribunal for Lebanon (STL), Judge Sir David Baragwanath, "has decided to temporarily suspend proceedings to define the crime of "criminal association" in an order today," according to a statement posted on the tribunal's website.
Prosecutors had sought to add a count of criminal association to charges including homicide and terrorism.
The court announced Friday that a pretrial judge rejected the request March 13 on "procedural grounds." It did not elaborate.
Hariri and 22 others died in a huge truck bomb blast on Beirut's Mediterranean sea front on Feb. 14, 2005.
The statement said that "this follows the pre-trial judge's rejection of the prosecutor's request to amend the indictment."
According to the statement "the prosecution had filed a confidential request to amend the indictment on February 8 and sought to add a count of "criminal association" to the indictment.
Afterwards, the pre-trial judge "asked the Appeals Chamber to define "criminal association", which is an offence under the Lebanese Criminal Code (article 335)," the statement said.
"The Pre-Trial Judge later rejected the prosecution's request in a confidential decision on 13 March. The rejection was based on procedural grounds."
The STL's statement added that the court's president "has now asked the parties and the Defense Office to make submissions on whether the Appeals Chamber should continue with the process of defining "criminal association"."
Four Hezbollah members have been indicted by the UN-backed STL in the Rafik Hariri murder case. However, the Shia group strongly denied the charges and refused to cooperate with the court.
AP, Now Lebanon