Saudi Prince and Lebanese Sheikh at war over LBC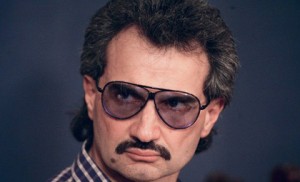 Sheikh Pierre al-Daher, as he is commonly known, is a savvy and successful television executive with an apparent penchant for making enemies. However, his once cozy relationship with Saudi Prince Walid bin Talal, himself something of a media mogul, has soured, and a standoff between them threatens to wrest from Daher most of what he's built.
Under Daher's watch, the Lebanese Broadcasting Corporation went from a militia's mouthpiece to a top regional market player with a strong ally. Set up by the Lebanese Forces during the civil war, LBC was the country's first private TV station when it launched in 1985. Daher took the helm in 1994 when LF boss Samir Geagea went to prison. Within two years he launched LBC SAT, a regional satellite channel, and rebranded the local station LBCI. Today there are versions of the channel tailored to the US, Europe and Australia, among other locales.
But the station Daher inherited was smarting in terms of infrastructure and equipment. He invested to rebuild – and started producing new shows – but he did so through a separate production company that he founded called PAC. He next began building a relationship with bin Talal.
In 2004, the Saudi prince – who owns the Rotana group of TV stations, among other things, and has the largest stake in Rupert Murdoch's NewsCorp of any non-Murdoch relative – bought 49 percent of LBC SAT, pouring in much-needed capital. Daher and bin Talal grew close.
In August 2007 – slightly over two years after Geagea was released – bin Talal and Daher struck a deal to merge LBC SAT and Rotana TV. Daher was given top spot in the new conglomerate.
While Daher denies it, LF supporters argue establishing PAC and linking up with bin Talal were shrewd moves on Daher's part to protect vital assets should the party every come calling for LBC, which it did in November 2007. Seven months after the LF filed its lawsuit, bin Talal bought 85 percent of Lebanese Media Holding, the parent company of both LBC SAT and PAC.
In 2009 Rolla Saad – a presenter on the popular "Start Academy" series, which airs on both LBCI and LBC SAT, and the sister of Daher's wife – founded her own production company, Vanilla Productions. That company replaced PAC as maker of "Star Academy," and today produces several shows broadcast on LBCI, LBC SAT and other stations.
Around this time Daher and bin Talal began butting heads via Rotana executive Turki Shabana. Attempts to reach Shabana and bin Talal were unsuccessful. Daher declined an interview request at this time because the situation within LBC is "unclear," according to his executive assistant.
According to local press reports and two sources NOW spoke with, bin Talal gave Shabana a promotion in Rotana and put him in charge of LBC SAT in an attempt to sideline Daher.
NOW Lebanon was unable to find official records of Rotana's corporate structure. However, news articles from 2009 refer to Shabana as head of the company's Khalijah station, while articles from 2011 cite him as vice president of Rotana TV, or Daher's number two (if Daher still holds his position at the top, which is unclear).
Meanwhile, the situation within LBCI is reportedly chaotic. Local papers report that several popular shows could be axed, and long-time director of news and political programs at LBCI, George Ghanem, is on an extended "vacation." NOW contacted a handful of the personalities at LBCI who supposedly may soon be jobless, but they all refused to talk.
While the exact internal machinations remain murky, bin Talal and Daher are suing each other, two sources told NOW Lebanon. NOW was unable to independently verify the details of the suit, but one source and an obscure local news website said Daher is suing bin Talal for essentially firing him, and bin Talal is suing Daher for inflating the value of the 85 percent stake of Lebanese Media Holding bin Talal bought in 2008.
If the two cannot reconcile, bin Talal – as majority shareholder – can push Daher out of PAC and LBC SAT (though some of the shows associated with the channel would still be produced by and property of Vanilla). Daher would likely be able to retain his position as chairman of LBCI – the station that only broadcasts in Lebanon – because local law forbids any one person from owning more than 10% of a television channel.
However, by Daher's own design, LBCI has very little, as PAC employs most of the staff that works at the station and owns the equipment and studios they use. Furthermore, the LF have not given up their claims. In fact, they're suing not only for LBCI but also for PAC and other companies. The party won its 2007 suit back in 2010, but on March 2 an appeals judge sided with Daher. The LF has now taken the case to Lebanon's highest court for a final round of litigation.
Now Lebanon