Russian official: Israel is blackmailing Obama, attack on Iran imminent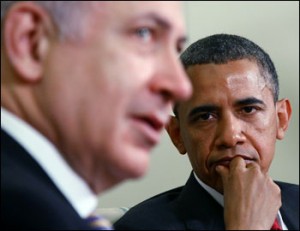 Israel will attack Iran this year if a new round of talks scheduled for April fail, a leading Russian newspaper has reported quoting a senior Russian diplomat.
Russian diplomats at the United Nations believe the strike against Iran is "a matter of when, not if", said the Kommersant daily on Wednesday.
"The attack will be mounted before the end of this year. Israel is blackmailing [U.S. President Barack] Obama by confronting him with a dilemma: either he supports the war option or will lose the support [of the U.S. Jews]," a high-ranking official of the Russian Foreign Ministry told the paper ahead of the U.N. Security Council meeting on Syria on Monday.
After the meeting, the Russian diplomat said the attack could come earlier, any time after April when the six-nation group holds new talks with Iran.
The Kommersant quoted the diplomat as saying that U.S. Secretary of State Hillary Clinton had asked Russian Foreign Minister Sergei Lavrov to warn Iran that the talks were a "last chance for Tehran" to avoid the attack.
The newspaper said a precise date and location for the talks was still being discussed. Iran on Tuesday confirmed that the talks would take place soon and said Turkey had been suggested as the venue.
The coming strike against Iran would save Syria from foreign military intervention, the unnamed Russian diplomat told the Kommersant.
"Americans realize that Israel will attack Iran and it would be too much to have two wars in the region," the diplomat said explaining Washington's consent to let U.N.-Arab League envoy Kofi Annan pursue his peace efforts in Syria.
The Hindu