Jumblatt hails brave Syrians, condemns inaction of Arab states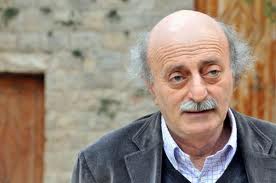 Progressive Socialist Party leader MP Walid Jumblatt in remarks to be published on Tuesday condemned the stance of Arab countries and the UN regarding the situation in Syria. Jumblatt also said that "the Syrian people know that if they fall back it will mean a return to the midst of darkness and injustice…"
"The international and Arab efforts waned from initially calling for the fall of President [Bashar al-Assad] and the withdrawal of army troops from streets… to drawing a parallel between the murderer and the victim and failing to [help] humanitarian and rescue groups reach the affected areas," Jumblatt told the weekly newspaper Al-Anbaa.
However, the PSP leader said that the Syrian people did not digress from their path even after a year of continuous killing by the regime.
"The Syrian people after a year of continuous killing [led by Assad's regime], did not [deviate from their path] but are more and more adamant to [pursue their] demands and [obtain their] rights."
He also said that the fall of the Homs' neighborhood of Baba Amr "is not the end of the road because there is Edleb, Latakia, Hama and dozens of Syrian cities that refuse to back away no matter the cost."
The UN says more than 7,500 people have been killed in the crackdown on Syrian protesters who have been demonstrating against the Baath regime since mid-March 2011.
Thousands of Syrians have fled to Lebanon, where the political scene is split between supporters of the Syrian regime – led by Hezbollah – and the pro-Western March 14 camp.
Now Lebanon