Domestic worker abused in video commits suicide in Lebanon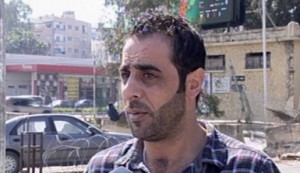 An Ethiopian domestic worker in Lebanon who was filmed being physically abused in public has committed suicide, local media have reported.
The video, first aired by Lebanese Broadcasting Corporation International (LBCI) last week, sparked outrage by showing a man, Ali Mahfouz (pictured on right), abusing Alem Dechasa as she cried on a street outside the Ethiopian embassy in Beirut.
The man was shown grabbing Dechasa and telling her, "get into the car" while she screamed out, "no, no, no". Another man then assisted in dragging Dechasa into the back of a car as she struggled to resist.
Asaminew Debelie Bonssa, Ethiopian general consul in Lebanon, told The Daily Star newspaper in Beirut that Dechasa committed suicide by hanging herself early on Wednesday morning at a psychiatric hospital where she had been taken after the incident.
Bonssa said that he had seen Dechasa on Saturday in the hospital and that she was making plans to return to Ethiopia.
'Larger issue'
After the video was aired, LBCI used the car's license plate number to identified the man.
"[The man] tried to justify his act by denying that he beat her. He stressed that the worker tried to commit suicide more than once, and that he tried dealing with her humanely, but she refused to go to the airport for deportation," LBCI reported on its website.
Activists in Lebanon, outraged by the video, posted the man's contact information on internet social media sites and called for action against him.
Reports of domestic worker abuse are widespread, with many allegedly locked in employers' homes.
Rola Abimourched, program coordinator at KAFA (Enough) Violence and Exploitation, said that Dechasa's case may increase scrutiny into the problem.
"This case may indicate the larger issue of migrant domestic workers' vulnerability to abuse in Lebanon, which puts the whole system in question. Namely, the sponsorship system which ties the domestic worker to one employer and does not guarantee her basic human rights," Abimourched said.
"We hope that an investigation into her death will determine what happened."
MWC News