Ahmadinejad defiant before parliament as impeachment looms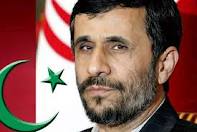 Iran's parliament questioned President Mahmoud Ahmadinejad Wednesday over his government's conduct, an unprecedented move that could lay the grounds for an impeachment process.
The parliament raised a broad range of issues with Mr. Ahmadinejad, ranging from disobeying the Supreme Leader Ayatollah Ali Khamenei to mismanaging the economy and abusing state funds.
Mr. Ahmadinejad addressed lawmakers, many of whom are hostile and critical of his administration, for an hour after lawmaker Ali Mottahari raised 10 questions about his rule. The session was broadcast live on state radio.
"So far no major violation has been proved against my government…. If you rate us at less than 100 percent, it would be unfair and cowardly," Ahmadinejad told lawmakers at the end of a near-hour long reply broadcast on state radio.
Mr. Ahmadinejad spoke for an hour and then left the parliament. There was no dialogue or follow up questions. During his speech, Mr. Ahmadinejad evaded answering the questions directly, flat-out denied some well-documented charges and stunned lawmakers when he repeatedly ridiculed the parliament and cracked jokes.
Although the interrogation is a blow to his political career and undermines his status, he appeared to have the upper hand by the end.
He played down the significance of the day marking the first time in Iran's history that parliament has summoned a president. The Islamic Republic's first president, Abulhassan Bani Sadr, was impeached in absentia in 1981.
"It wasn't a very difficult quiz," Mr. Ahmadinejad said in his final remarks before lawmakers. "To me, those who designed the questions were from among those who got a master's degree by just pushing a button. If you had consulted us, better questions could have been drawn up."
Ahmadinejad shrugged off a highly publicized incident last year, in which he stayed at home for 11 days after Khamenei reinstated his sacked intelligence minister.
"Most people tell me to relax and take care of myself," he said, adding that the business of government had continued unimpeded.
On strict Islamic codes imposed on Iranian society, Ahmadinejad stood by his view that they should be loosened.
"The people should be respected," he said. "Do not put young men and women in a vice."
After the session ended, lawmakers angrily denounced Mr. Ahmadineajd's casual tone and folksy manner and said his choice of words had been "inappropriate and condescending."
"The parliament isn't an appropriate place for these kinds of speeches," parliament speaker Ali Larijani said afterward, according to Fars News Agency.
Wall Street Journal