France to cut peacekeeping force in Lebanon by nearly 30%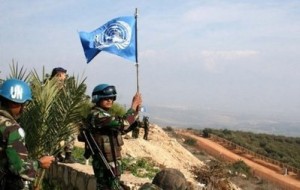 France will cut the number of its troops participating in a U.N. peacekeeping force in Lebanon by 400 to around 1,000 by the summer to speed up a transfer of responsibility to Lebanese forces, the French foreign ministry said on Tuesday.
The United Nations UNIFIL operation has about 12,000 troops and naval personnel in Lebanon following its expansion under a U.N. Security Council resolution that halted the 2006 Israel-Hezbollah war in southern Lebanon. "France reiterates its total support for the essential role of the (U.N.) UNIFIL force in promoting Lebanon's stability, independence and territorial integrity," Bernard Valero said in a statement announcing the troop reduction.
The UNIFIL force operates alongside 15,000 Lebanese army troops deployed in the south of the country to keep peace near the border with Israel and prevent weapons transfers in an area that is a stronghold of Hezbollah guerrillas.
A roadside bomb wounded five French peacekeepers in southern Lebanon in December, in the third attack of the year on U.N. forces in the area.
The U.N. Security Council called in August for a review by the end of 2011, aimed partly at assessing whether the Lebanese army could assume a greater role in operations.
Italy reduced its contribution to UNIFIL last year to 1,100 soldiers from 1,800 after six of its peacekeepers were wounded in May, although diplomats said the decision to cut its contingent had been taken before the attack.
The Nation