Kuwaiti politicians reject Bassil visit over ties to Assad regime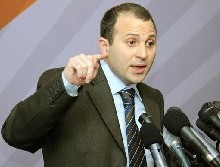 Several Kuwaiti lawmakers have voiced strong objections to a planned visit to their country by Energy and Water Minister Jebran Bassil, noting that "he is an ardent supporter of the oppressive Syrian regime."
"Bassil's stances in support of the Syrian killing machine against the unarmed Syrian people make him unwelcome in Kuwait," said MP Badr al-Dahoum, spokesman of the Justice parliamentary bloc, stressing that "guests who visit Kuwait must respect the official and popular stance on the Syrian regime."
"Should the Lebanese energy minister affront the Syrian people, we will confront him and stop his attempts," Dahoum added.
Meanwhile, MP Osama al-Shahine called on the Kuwaiti foreign ministry to "reconsider" its position on allowing Bassil to enter the country.
For his part, MP Adel al-Damkhi condemned "hosting those who back the criminal regime of (Syrian President) Bashar al-Assad, such as the Lebanese energy minister."
"Kuwait backs the Syrian people, the (Kuwaiti) foreign minister has slammed the Syrian regime as 'criminal', and the National Assembly has adopted recommendations demanding penalties against the Assad regime, so we must not host anyone who is in Assad's service," Damkhi said.
"Lebanese Energy Minister Jebran Bassil supports the murderer regime in Syria the same as his father-in-law (Free Patriotic Movement leader) General (Michel) Aoun had backed Saddam Hussein, so why should Kuwait welcome him in?" Damkhi added.
MP Mubarak al-Waalan slammed Bassil as "Assad's mouthpiece," saying he was a persona non grata "because he is turning a blind eye to the bloodshed."
And MP Abdul Rahman al-Anjari wondered "what would Kuwait gain from the visit of Assad's ally Bassil."
"Those people have been exposed and soon they will be ousted by the peoples," he added.
Naharnet