Syrian minister denounces Assad, joins uprising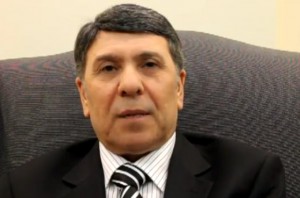 In a video statement denouncing what he called the "brutal" government of President Bashar al-Assad, a senior official in Syria's Oil Ministry announced on Thursday that he was switching to the opposition, in what appeared to be the highest-level defection of a government official since the start of the Syrian uprising nearly a year ago.
British and American officials, who have supported the overthrow of Mr. Assad's government, spoke about the defection of the deputy oil minister, Abdu Hussameldin, as a potentially significant event. Prominent Syrian opposition figures were more cautious about the development, with some saying it was unlikely to hurt the government seriously.
"I don't consider such a defection a strike for the regime," said Samir Nachar, a member of the opposition Syrian National Council. "It's more a political and moral message for loyalist figures and regime symbols who are still hesitant to declare their defection. It's just the beginning."
Haytham Manna, a Syrian dissident based in Paris, said the defections of bureaucrats would not be enough to topple the government. "The most important thing is the army," he said.
The inability to attract high-level defectors has been a continuing source of consternation for Mr. Assad's opponents and an enduring sign of the government's resilience, despite its growing international isolation. While the Libyan opposition was able to attract high-level government and military defectors days after the uprising began there — and myriad other officials, from ambassadors to the foreign minister, as the conflict wore on — the Syrian opposition is still waiting for one well-known person to step down and denounce the government.
Even so, a State Department spokeswoman, Victoria Nuland, said the defection of Mr. Hussameldin, while not confirmed, could be significant and that he could be "privy to a lot of information about what Assad has really done to his country."
"He would be well placed, this particular individual, to understand the impact that the international sanctions that we, that the Europeans, that the Arab League, that other countries are now beginning to put on Syria," she said.
The video of Mr. Hussameldin, which first surfaced early Thursday in the Middle East, did not specify where or when it had been made, and he could not be reached to verify its authenticity.
In it, Mr. Hussameldin, a deputy assistant to the minister of Oil and Mineral Resources, said, "I declare I am joining the people's revolution, which will not and will never accept oppression and the brutality practiced by the regime."
Saying the country's economy was about to collapse, Mr. Hussameldin condemned Russia and China, contending that they were "partners" in the government's killing of civilians. "I don't want to end my career in the service of this regime's crimes," he said.
Eiad Shurbaji, a prominent Syrian dissident and journalist who said he had worked with Mr. Hussameldin in 2004 and 2005, when Mr. Shurbaji was head of the Oil Ministry's media department, confirmed that Mr. Hussameldin was the man in the video.
Mr. Shurbaji said that Mr. Hussameldin was a friend and had served as a deputy under at least four ministers. Mr. Shurbaji said that when he worked at the ministry, the two men had long conversations over coffee that mostly focused on Mr. Hussameldin's complaints about corruption in the ministry.
"He was a clean person," said Mr. Shurbaji, who left Syria for the United States several months ago after he had been arrested and released by the authorities. "I am so pleased to hear about this defection. He became aware where things are heading in Syria."
The news of the defection came amid signs of other challenges to the government, which has seen the country's currency plunge to roughly half the value that it had a year ago.
Comments in Washington in recent days, most notably by Senator John McCain, the ranking Republican on the Senate Armed Services Committee, calling for aerial bombardment of Syria's military, apparently contributed to a demand for dollars by nervous money traders in Syria. That demand put new pressure on the Syrian pound, which has been eroding for months. Although senior Obama administration officials said they opposed military intervention in Syria, they did not rule out the option.
Quoting currency dealers in Damascus who were reached by telephone, Reuters reported that the Syrian pound had lost about 13 percent of its value in the past few days and was trading around 100 pounds to the dollar, compared with 47 pounds to the dollar last March, when the antigovernment uprising began.
International diplomatic efforts in Syria on Thursday focused mainly on how to provide emergency relief to civilians in Homs and other cities that have been upended by the violence. Several parts of the country are bereft of food, water and medical supplies, activists said.
Valerie Amos, the top United Nations relief official, who arrived in Syria on Wednesday to assess those needs, said she was overwhelmed by the destruction she saw from a monthlong military assault on Homs, an epicenter of armed resistance to Mr. Assad. She said she saw very few residents, particularly in the ravaged neighborhood of Baba Amr, and she wondered where they had gone.
Ms. Amos was preparing to leave Syria as Kofi Annan, the new special envoy on Syria representing the United Nations and the Arab League, was scheduled to visit on Saturday. He told reporters in Cairo that he would urge Mr. Assad and his opponents to stop fighting and seek a political solution.
New York Times