Honor crimes and marital rape targets of new legislation in Lebanon
Proposed amendments to a draft law on gender violence in Lebanon have sparked demands from civil society organizations that parliament uphold an original draft criminalizing "honor crimes", marital rape and other abuses.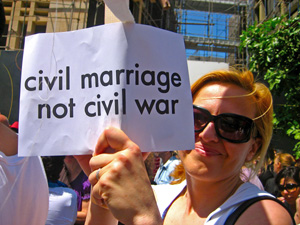 Proposed amendments to a draft law on gender violence in Lebanon have sparked demands from civil society organizations that parliament uphold an original draft criminalizing "honor crimes", marital rape and other abuses.
"The version that we came up with at first was fine," said Maya al-Ammar, an activist with the organization KAFA, [Enough Violence and Exploitation]. "Now it is not good at all."
The original draft has been worked on since 2007 by a coalition of over 40 civil society organizations, and primarily aims to protect women from mental, physical and economic violence.
It criminalizes different types of violence experienced by women; suggests the appointment of public prosecutors to investigate cases of family violence; envisages the establishment of special units within the police to oversee such cases; and allows women and their children to seek restraining orders against abusers. It also proposes giving civil, not religious courts, jurisdiction over family violence cases.
In April 2010, this draft was approved by the Council of Ministers, which referred it to a parliamentary committee. That committee (seven men and one woman), say civil society leaders, has modified the law so dramatically that "it has been emptied of its original purpose."
Intense lobbying by Lebanon's main religious authorities, campaigners said, had prompted the committee to remove marital rape, and economic and psychological violence, from the draft and introduce a new provision giving religious bodies primacy over civil courts in overseeing cases. The article establishing a specialized police force on domestic violence has been deleted, and the law's gender focus was weakened to extend protection to the elderly, men and children, Maya al-Ammar said.
Lebanon's 15 religious courts currently preside over personal cases (e.g. marriage, inheritance and custody) and have attacked the draft law as an attempt to undermine their authority and to Westernize the Arab family. Such arguments, said Nadine Mouawad of feminist pressure group Nasawiya are "ridiculous and show that the opposition will use anything to turn people against the law".
"This law is tailored specifically for women in Lebanon, it was drafted by women in Lebanon, and it came out of the stories of thousands of women in Lebanon who survived all sorts of violence at home," she added.
No official data on domestic violence is available in Lebanon, but KAFA estimates one woman a month is killed by her partner or a family member. Its centre in Beirut sees some 300 cases of marital rape a year.
Marital rape doesn't exist?
The controversy over the draft law highlights the difficulties faced by those campaigning for secular laws in Lebanon, said Ghida Anani, founder and director of the Resource Center for Gender Equality (ABAAD).
"The sectarian system that governs our country has huge repercussions on campaigning by civil society, especially on women's issues and anything else that might alter the power of religious leaders," she said.
Shant Janjanian, a member of the parliamentary committee, recently said the committee had become more "flexible" in discussing the matter. Another member, Imad al-Hout, angered campaigners in December when he said marital rape did not exist. "There's nothing called rape between a husband and a wife," he told The Daily Star newspaper. "It's called forcing someone violently to have intercourse."
Gender activists say the proposed changes are unacceptable. "Family violence is the most common form of violence women face globally and locally, so it needs to be tackled through a strong law," said KAFA's al-Ammar.
Ghada Ibrahim, a lawyer who handles family violence cases and a member of the Lebanese Council to Resist Violence against Women, told IRIN she was "very worried" that the law would pass in its amended form. "Those who speak of democracy in Lebanon should apply it to the family," she said. "Protection of women is the first step towards building a democratic state."
Efforts must now be made to galvanize male involvement in the fight against gender-based violence, according to ABAAD's Anani. Because of their traditional hold on power, "men can secure more votes for laws promoting gender equality and prohibiting violence against women," she said. "If gender-based violence becomes an issue for more members of society, more politicians will work to champion the cause."
Lebanon ratified the UN Convention on the Elimination of All Forms of Violence against Women (CEDAW) in 1996. In 2008, the CEDAW Committee urged Lebanon to draft "without delay" legislation to protect women from gender-based violence and to adopt a unified personal status code for all women, irrespective of their religious affiliation.
IRIN