Kofi Annan to mediate in efforts to end violence in Syria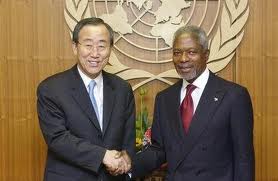 Kofi Annan, the U.N.-Arab League special envoy on Syria, said on Thursday he would urge President Bashar al-Assad and his foes to stop fighting and seek a political solution to the conflict, drawing angry rebukes from dissidents.
The turmoil prompted Syria's deputy oil minister to change sides in the first defection by a senior civilian official since the start of a popular uprising against Assad. Abdo Hussameldin, 58, said he knew his move would bring persecution on his family.
In another sign of mounting pressure on Syria, the national currency fell as low as 100 pounds to the dollar from about 47 a year ago. Dealers in Damascus said the pound plunged about 13 percent in the last 24 hours on fears of U.S. military action.
"As I move to Syria, we will do whatever we can to urge and press for a cessation of hostilities and end to the killing and violence," Annan, due in Damascus on Saturday, said in Cairo.
"But of course, ultimately the solution lies in a political settlement," the former U.N. secretary-general said before talks with Arab League chief Nabil Elaraby.
"We will be urging the government and a broad spectrum of Syrian opposition to come together to work with us to find a solution that will respect the aspirations of the Syrian people."
Syrian activists, who say calls for dialogue only give Assad more time to suppress them, bitterly criticised Annan's remarks.
"That seems like a wink at Bashar," said an activist in the northwestern province of Idlib, who gave his name only as Mohammed. "They are supposed to be with the people, but this will pressure Assad to crush the revolution."
Hadi Abdullah, an activist in the city of Homs, said: "We reject any dialogue while tanks shell our towns, snipers shoot our women and children and many areas are cut off from the world by the regime without electricity, communications or water."
Opposition sources say the government, controlled by Assad's minority Alawite sect that has dominated power in Syria for the past five decades, has effectively stopped functioning in places that have been at the forefront of the uprising, such as Homs and Idlib. They say the time for dialogue has passed.
Reuters