At Chechnya Polling Station, Votes for Putin Exceed the Rolls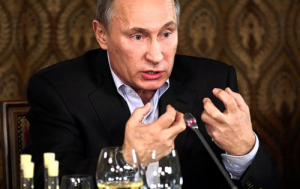 GROZNY, Russia — While there were charges of fraud in Russia's presidential election Sunday, officials throughout most of the country appeared to be on notice to avoid the appearance of cheating in obvious ways like ballot stuffing. But some here seem not to have gotten the memo.
At Precinct 451, members of the local electoral commission set about counting a pile of glistening white ballots. "Putin, Putin, Putin," they muttered. "Good, more Putin."
Vladimir V. Putin did well in Chechnya, a place that he virtually declared war on after becoming president in 1999, and whose people have suffered grievous human rights abuses at the hands of Russian security forces. The final tally: Putin, 1,482 votes; Gennady A. Zyuganov, the Communist Party leader, one vote.
This result was in itself statistically improbable. But even more difficult for the teachers who had been drafted onto the electoral commission to explain was the turnout: there were only 1,389 people registered in the precinct, meaning that the turnout was 107 percent.
"Look, something is not adding up here," said Milana Atlanova, the head of the commission, growing increasingly confused.
Analysts of Russian elections say the North Caucasus region is a place where violations of election law are uniquely brazen, from a combination of top-down pressure, cultural factors and, in Chechnya, a fearful milieu of police intimidation.
Fraud that to a Western eye seems outrageous is tolerated and never followed up on in courts. It is also rarely seen by independent election observers, who do not monitor Chechnya for safety reasons.
The flagrant fraud witnessed here in Sunday's election did not greatly affect the outcome nationally, in that the North Caucasus region is home only to 6 percent of Russia's voters. But it shows the deep tolerance of undemocratic practices that persists in Russia, particularly in places beyond the reach of Western observers.
By the end of the day Sunday, authorities reported turnout in Chechnya at 99.59 percent, with 99.82 percent of voters backing Mr. Putin. Mr. Zyuganov, the runner-up, won 0.04 percent. How it was accomplished is illustrative of the types of abuse that have angered the street protesters who oppose Mr. Putin.
Through the day in this neighborhood of Grozny, dozens of minibuses, some bearing the emblem of the local Gazprom affiliate, ChechenRegionGaz, shuttled voters to, from and — significantly — between polling stations.
It was hardly concealed. Asked what she was doing entering more than one polling station, one woman replied without hesitation, "We're voting."
Marieta N. Beshirova, a nurse, bundled in a felt coat against a frigid mist drifting down from the Caucasus Mountains, piled out of an ambulance at one polling station with other hospital employees. "If our Ramzan needs us to vote, we will vote," she said, referring to the region's leader, Ramzan A. Kadyrov. "And we will do it wholeheartedly," she added, without any enthusiasm.
One woman, traveling with the group of hospital workers, stepped away from the crowd on the stoop of a school and said she had been compelled to vote: "I hate him, but, speaking honestly, we were forced to come here."
The region's top electoral official, Ismail B. Baikhanov, denied in an interview that illegal methods had been used, citing as proof the absence of court filings after the December vote, when turnout was 99.5 percent and the ruling party, United Russia, received 99.4 percent support. "We understand better than others the consequences of lawlessness," he said.
Deyeshi Dautmerzayeva, 55, offered a view of the muted and fearful form of expression that is typical of election discussions here. She blames the Russian security services for the disappearance of her son during the violence here, but she said she would still vote for Mr. Putin.
"I cannot imagine that anybody else will solve this problem for us," she said. "Putin was in charge from the beginning. Who can help us find our children? Who knows better than Putin what happened to our sons?"
At polling station 451, Ms. Atlanova's assistant jotted the results on a piece of scrap paper, rather than the formal protocol form that would be sent to the district office, and awaited her supervisor, Ruslan Daudayev.
The over-count, Ms. Atlanova suggested, was caused by early absentee voting that had not been registered on her list.
When Mr. Daudayev, the head of the district committee, arrived, he said the additional ballots were filled in by "those who are temporarily living in the precinct" but lacked documents.
Ms. Atlanova then suggested the commission had counted the ballots incorrectly — though a close watch showed nothing untoward. She then filled in the protocol form with a result of 1,389 votes for Mr. Putin, reflecting the number of registered voters in her area and, inexplicably, that one vote for Mr. Zyuganov.
NYT