Hezbollah MP blasts Siniora over linking cabinet expenditures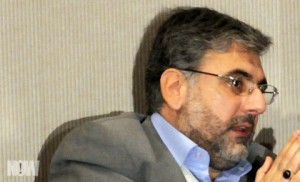 Hezbollah MP Nawwaf Moussawi on Monday blasted former PM and current Future Movemnt bloc leader MP Fouad Siniora over linking the past and current cabinet expenditures.
"Linking the $6 billion [spent by the current cabinet of Prime Minister Najib Mikati] to the $11 billion [spent by the past cabinets of former PMs Fouad Siniora and Saad Hariri] cannot be justified,"
said Moussawi according to the National News Agency.
Moussawi lashed out at Siniora and the March 14 coalition saying that they had to readjust their course of action after it became clear that the fall of the Syrian regime is not "inevitable."
"Siniora and March 14's misplaced bet on the fall of the regime in Syria has constrained them to change their course of action."
Moussawi added that March 14 thought that the "fall of [Syrian President Bashar al-Assad's] regime would consequently lead to the fall of the [current Lebanese] government."
Moussawi's comments come after a boycott by the lawmakers of March 14 and the National Struggle Front which is headed by MP Walid Jumblatt forced Lebanese speaker Nabih Berri to postpone Monday's parliament session until March 15 due to the lack of a quorum.
The dispute between the rival parliamentary blocs is over the handling of expenditures by previous Cabinets in the absence of approved budgets . Prime Minister Najib Mikati's Cabinet has forwarded to Parliament a draft law to legalize the so called " extra-budgetary expenditure" of around $6 billion by his Cabinet in 2011.
During a Parliament session last month, March 14 MPs rejected the draft law, saying it only partially addresses the problem. They said that the $11 billion " extra-budgetary expenditure" spent under the Cabinets of former Prime Minister Fouad Siniora between 2006 and 2009 and $5 billion by former Prime Minister Saad Hariri's Cabinet in 2010 should be also legalized , but March 8 bloc did not agree.
Lebanese governments have been running the country without an approved budget since 2005.
Boycotts to continue
On the other hand Future bloc MP Ammar Houri said on Monday that his bloc "will not participate in any parliament session," unless the subject of $6 billion spent by the government in 2011 and that of $11 billion spent by past cabinets, are discussed "as one topic."
"We will not succumb to the political blackmail exercised by the [March 8 coalition]," Houri told New TV.