Putin claims victory, opponents allege fraud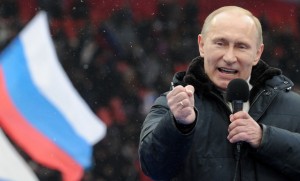 Vladimir Putin has claimed victory in Russia's presidential election, which the opposition and independent observers say has been marred by widespread violations.
Putin made the claim at a rally of tens of thousands of his supporters just outside the Kremlin, thanking his supporters for helping foil foreign plots aimed to weaken the country.
Putin tallied 58-59 percent of Sunday's vote, according to exit polls cited by state television. Communist Party candidate Gennady Zyuganov received about 18 percent, according to the survey, and the others — nationalist Vladimir Zhirinovsky, socialist Sergei Mironov and billionaire Mikhail Prokhorov — were in single digits.
With just over 20 percent of all precincts counted, Putin was leading the field with 63 percent of the vote, the Central Election Commission said.
AP