Pro and anti-Assad rallies in Beirut were peaceful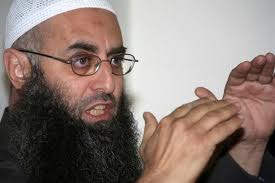 Beirut's Martyrs Square on Sunday was once again the scene of two rival yet peaceful demonstrations supportive and critical of Syrian President Bashar al-Assad's regime.
The demonstrations were separated by barbed wire and a heavy military presence. Hundreds of people showed up and chanted slogans for and against the Syrian government, with a slightly higher proportion showing up for the anti-Assad rally.
Demonstrators from both sides came from areas throughout Lebanon to take part.
The anti-Assad demonstration was organized by Salafist cleric Sheikh Ahmad Assir of Sidon. Most of the attendees were Salafists ( a convoy of 53 buses of anti-Assad supporters from southern coastal city of Sidon participated in the rally) . They raised the pre-Baath Syrian flag and chanted, "The people want the fall of the regime."
Assir condemned the international community's refusal to intervene in Syria to end its crisis.
"The developments in Syria have revealed the true colors of some sides that have long deceived us." He said
"They want Assad to increase his crimes against our brothers," he declared.
He called on the Arab world to act to save the Syrian people, condemning their ongoing inaction in this regard.
Assir also urged Muslim-Christian unity in the face of Zionism.
"We are giving our voice against what's happening in Syria," said Adham Bitar, a 25-year-old from Sidon who attended the rally.
Pro-Assad rally
The pro-Assad rally was organized by the Lebanese branch of the Baath party.
The pro-Assad rally, which took place on the edge of Martyrs' Square in the direction of Saifi, was less organized according to local reports . There was no podium for speakers, but the head of the Baath party in Lebanon Fayez Shukr delivered several remarks criticizing Progressive Socialist Party leader MP Walid Jumblatt and comparing him to the late Israeli military leader and politician Moshe Dayan.
The participants in the pro Assad rally set on fire a portrait of Jumblatt ( with an eye patch) , who has voiced support for the Syrian revolt and called on Assad to step down.
Baath official Ibrahim Issa also addressed the rally and said "we, in Lebanon, are against the conspiracy targeting the region."
"Our relation with Syria is brotherly and special and we won't tolerate that Lebanon be a launching pad for aggression against Syria," Issa said.
Main parties absent
The leadership of Lebanon's main parties, including Future, Hezbollah and Amal announced that they would not be taking part in Sunday's demonstrations.
Prime Minister Najib Mikati, on Twitter, urged the that the demonstrators show restraint and remain peaceful.