Clinton Rips Russia and China; Talks Tough on Assad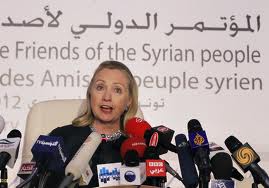 U.S. Secretary of State Hillary Clinton Friday condemned Russia and China for vetoing a United Nations' Security Council resolution on Syria and described their behavior as "despicable."
"We need to change the attitude of the Russian and Chinese governments," she said at the "Friends of Syria" conference in Tunis, Tunisia, according to the Associated Press.
Russia and China have both boycotted the Tunis summit, rejecting its aims as promoting "interference" in Syria's internal affairs.
Clinton also turned her ire on Syrian President Bashar al-Assad himself.
"You will pay a heavy cost for ignoring the will of the international community and violating the human rights of your people," she said, angrily noting that Damascus has "ignored every warning, squandered every opportunity and broken every agreement."
Clinton predicted that Assad's days are numbered, suggesting that members of his own security forces will betray him.
"We also know from many sources that there are people around Assad who are beginning to hedge their bets — they didn't sign up to slaughter people," she told reporters.
"Their refusal to continue this slaughter will make them heroes in the eyes of not only Syrians, but people of conscience everywhere. We saw this happen in other settings last year; I think it is going to happen in Syria."
Separately, the summit is mulling asking the United Nations to form a peacekeeping force for Syria once the current bloodshed ceases. For the time being, the group is calling on Assad to end the brutal crackdown, which has already claimed at least 6,000 lives, and allow humanitarian aid into the country for the wounded and besieged.
Clinton added, in an apparent reference to Assad's ally Iran: "If the Assad regime refuses to allow … life-saving aid to reach civilians, it will have even more blood on its hands. So too will those nations that continue to protect and arm the regime. We call on those states that are supplying weapons to kill civilians to halt immediately."
The Friends of Syria also vowed to deepen ties with the opposition Syrian National Council and declared the umbrella group as "a legitimate representative" of the Syrian people.
However, divisions exist over the question of arming Syrian opposition groups.
Saudi Arabia is heavily in favor of transporting arms and weapons to the Turkish-based Free Syrian Army, a group made up primarily of Syrian soldiers who defected from Assad.
"I think it's an excellent idea," Saudi Foreign Minister Saud al-Faisal told reporters in Tunis. "Because [the Syrian people] have to defend themselves."
It is not clear if the U.S. favors arming the Syrian opposition or not, for the most part Washington officials have suggested strengthening economic sanctions on Damascus.
IBT