Assad forces kill 103, Red Cross vies to aid Syria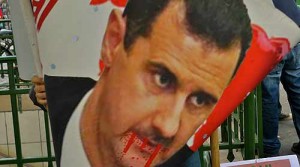 On Friday, Syrian President Bashar Assad's forces killed 103 people in Syria in the bombardment of the besieged city of Homs and in attacks on the countryside of Hama and the east and north of the country, the activist group Local Coordination Committees said.
Most of those killed were civilians, including 14 children and one woman, it said.
Anas al-Tarsheh, an activist in Homs who has been filming the bombardment and uploading the footage on YouTube, was also killed by the shelling, the grassroots opposition activists' organisation said in statement.
The group said at least 36 people had been killed in Homs and 32 in the province of Hama. Five were killed in and around the northern city of Aleppo, Syria's main commercial and industrial hub, it said.
Security forces also shot dead 10 people the eastern city of Hasaka, where crowds were fired upon when they tried to bring down a statue of Assad's late brother Bassel, said the group, which has been documenting what it describes as human rights abuses since the popular uprising against Assad broke out 11 month ago.
Other scattered killings took place across the country, it said
Evacuations
Meanwhile negotiations have resumed with both Syrian authorities and opposition fighters aimed at continuing medical evacuations from the besieged Baba Amro district of Homs, the International Committee of the Red Cross (ICRC) said on Saturday.
"Negotiations have resumed with Syrian authorities and the opposition in order to continue evacuating all persons in need of help," the ICRC spokesman Hicham Hassan told Reuters.
"We hope to be able to carry out many more life-saving operations," he said. "We are hopeful the ICRC will also enter Baba Amro today."
Reuters