Hezbollah chief: "Israel is the greatest threat"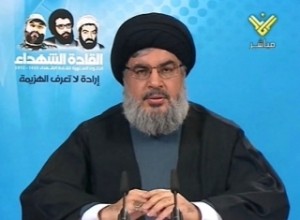 Hezbollah chief Sayyed Hassan Nasrallah dismissed Friday during an event commemorating the death of the late Hezbollah Secretary General Abbas Musawi's father Israel's alleged recent statements about Lebanon and said they were part of the Jewish State's psychological warfare.
He was commenting about the alleged remarks made by Israeli Prime Minister Benjamin Netanyahu in Switzerland that Lebanon does not exist on the map.
"This does not intimidate us; [Benjamin] Netanyahu, [Ehud] Barak and [Ehud] Olmert, none of them intimidate us. They can talk all they want," said Nasrallah during his televised speech via video link
"Israel is the greatest threat and we should remain diligent to its plans in Lebanon and the region," he stressed
Nasrallah also defended on Friday Lebanon's decision to distance itself from regional developments.
He said: "Lebanon is part of the region, but its decision is aimed at preserving the government."
"The region is passing through a critical phase as it is being restructured and Lebanon is not an island onto itself," he remarked.
"We are part of the region and the country's security is linked to regional security," he stated.
His statement about linking the security of Lebanon to that of Syria comes after Former Lebanese president and current Phalange Party leader Amin Gemayel rejected the link between security in Lebanon and Syria . " Claims that Lebanon's security is linked to Syria's "need to be rectified because it is unacceptable that absence of security in Syria would imply [the same thing in Lebanon].
Nasrallah slammed March 14 claims that the cabinet "belongs to Hezbollah," deeming such allegations as "baseless."
"They sought to promote such claims in order to incite the Americans and Israelis against it and drive the West to boycott it," he remarked.
"We are the government's most humble members and we have delayed tackling a few issues in order to preserve it, however the government must assume its responsibilities," he said.