U.S. drones reportedly monitoring Syria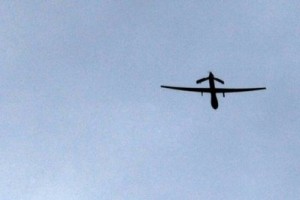 "A good number" of unmanned U.S. military drones are operating in the skies over Syria, monitoring the President Basir al-Assad's military's crackdown against the opposition, U.S. defense officials tell NBC News.
According to the unnamed officials, the drone surveillance is not in preparations for a future military operation in Syria. Rather, the administration of U.S. President Barack Obama is hoping to use the visual evidence and intercepts of Syrian government and military communications in an effort to "make the case for a widespread international response."
Unlike in Libya and the regime of former dictator Muammar Qaddafi, there has been no widespread international support for military intervention in Syria.
Despite debate among White House, State Department and Pentagon officials about possible humanitarian missions, officials fear that those missions could not be carried out without jeopardizing those involved and would almost certainly draw the U.S. into a military role in Syria.
On Friday, Syrian government forces, disregarding U.N. condemnation, renewed their bombardment of the opposition stronghold of Homs as a Chinese minister arrived for talks with embattled President Bashar al-Assad on Saturday.
Demonstrations against Assad were reported by activists in cities across Syria, including the capital Damascus and the commercial hub Aleppo, after Friday Muslim prayers despite the threat of violence from security forces.
Al Arabiya