Thailand questions 'open door' after Iranian terror plot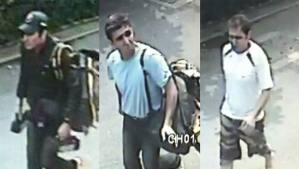 Unwinding at a beach town with bar girls came first. Building bombs was allegedly for later.
The three Iranians detained in Bangkok and accused of plotting to attack Israeli diplomats set priorities during their trip to Thailand. They spent time in the company of prostitutes at a famous beach resort that has attracted many of the world's unsavory characters.
Thailand's tourism industry, which accounts for 6 percent of the economy and employs more than 2 million people, brings in more than $25 billion in revenues every year. It is inevitable then that among the roughly 12 million visitors every year, there will be many people with nefarious backgrounds.
The "Land of Smiles" has long been a favorite haven for criminals — from Russian arms dealer Viktor Bout to gangsters, drug smugglers and pedophiles — drawn by its open-door visa policy, lax law enforcement and huge variety of white sand beaches.
Officials are now questioning if they should roll back the welcome mat a little.
"We have to admit that there are threats all over the world, and our country is a weak link," National Security Council chief Wichean Potephosree said after an apparently foiled bomb plot was uncovered when an explosion in the Iranians' rented house Tuesday forced authorities to acknowledge that Thailand was a target of international terrorists.
Within days of the terror scare, the Thai Tourism Ministry put on hold a plan to allow visas on arrival to citizens of Middle Eastern countries, including Iran. Deputy Prime Minister Chalerm Yubumrung said he would order immigration authorities to "closely check people who enter the country, especially from countries that might have problems."
On Friday, police revealed that the three Iranians had flown into the resort island of Phuket on Feb. 8, then moved to Pattaya, a seedy beach town on the Gulf of Thailand known for its abundance of go-go bars and brothels.
They stayed in Pattaya at least two nights and cavorted with several female sex workers, one of whom was brought to Bangkok to identify the suspects on Thursday, said Lt. Col. Noppon Kuldiloke, a senior immigration police investigator in southern Thailand.
They drank and played snooker together, according to one of the women quoted in Friday's Bangkok Post, which published a cellphone photo she took of the group. The image purportedly shows the three Iranians sitting around hookah water-pipes and a drink-filled table at a Middle Eastern-themed bar. Two of the men cradled women in their arms.
The men left Pattaya on Feb. 13 and there the details get murky until the following day at about 2 p.m., when explosives in their rented Bangkok house blew up accidentally, forcing them to flee. Two suspects, Mohammad Kharzei and Saeid Moradi, were detained in Bangkok. A third suspect, Masoud Sedaghatzadeh, was captured Wednesday in neighboring Malaysia as he reportedly tried to return to Iran.
Part of Thailand's problem in tracking criminals is also a regional one. Borders in Southeast Asia are notoriously porous, making it easy to slip out of Thailand and disappear into Malaysia, Laos or Cambodia.
Malaysia has relaxed visa rules in recent years to boost tourism, allowing travelers from Iran and most Gulf countries visa-free entry for up to three months.
Sedaghatzadeh had traveled to Malaysia several times last year, according to a Malaysian security official who said authorities were investigating if the trips had any connection to the Bangkok plot. The official spoke on condition of anonymity because he was not authorized to speak to the media.
Thai police said Friday they were searching for two more suspects, including a possible explosives specialist who may have been training the Iranians. They have also issued an arrest warrant for an Iranian woman who rented the Bangkok home, named Leila Rohani, who is now believed to be back in Tehran.
The foiled plot highlights another loophole in Thailand: It's very easy to rent a house or apartment. There are no background checks. The standard requirement is one month's rent in advance, no questions asked.
In January, a Lebanese-Swedish man with alleged links to Hezbollah was arrested at the airport and then led police to a rented warehouse near Bangkok packed with more than 4 tons of urea fertilizer and other materials that could be used to make bombs.
Thailand at the time insisted that the country was a staging ground for attacks but not the target — a claim disputed by Israel and the United States which warned their citizens to be alert for a foreign terror attack in Bangkok. Thai media reported that the Israeli Embassy and several Israeli backpacker hangouts were the targets.
Authorities say they have not determined if the two plots were connected.
The Iranian arrests have ratcheted up tensions between Iran and Israel, which is accusing Iran of waging a covert campaign of state terror. A Monday bombing in New Delhi tore through an Israeli diplomatic vehicle, wounding an Israeli diplomat's wife and driver, the same day of a failed bomb attempt in Tbilisi, the capital of the former Soviet republic of Georgia.
Thailand's national police chief said Thursday that the detained Iranians were also plotting to attack Israeli diplomats, citing the similarity of "sticky" bombs that were used in New Delhi and Tbilisi.
Iran has denied responsibility for all three bomb plots.
In another blow to Thailand's image, the Paris-based Financial Action Task Force this week named it one of 15 "high risk" countries for failure to take sufficient steps against money laundering and the financing of terrorism. Thailand joins the likes of Cuba, Myanmar, Nigeria and Syria.
"I insist Thailand is not a place for money laundering," Deputy Prime Minister Gen. Yuthasak Sasiprapa said Friday. "Thailand is only a transit place because it's easy to go through."
He added that Thailand is increasingly aware of its conflict: "On the one hand we have to invite tourists. On the other hand, we have to closely scrutinize them."
Philstar, AP