Jumblatt: Hezbollah chief should support the Syrian people not Assad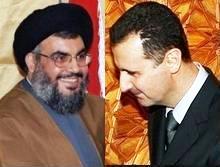 Progressive Socialist Party leader Walid Jumblatt told As Safir daily in remarks published on Saturday that Hezbollah chief Sayyed Hassan Nasrallah should have announced his backing for the Syrian people rather than defending the Assad regime.
"I would have hoped that for Syria's sake he ( Nasrallah) would have directly addressed (President) Bashar Assad and told him that Syria is more important" than anything else, Jumblatt said
Jumblatt who was referring to Nasrallah's televised speech last Thursday said "Nasrallah's "support for the Syrian people is much more important than his support for the regime and its delusional reform promises" and added: "Sayyed Hassan knows what I mean and I don't want to go into a public confrontation with him about this."
Jumblatt described as an" illusion" the newly drafted constitution based on which the Syrian authorities have called for a Feb. 26 referendum aimed at ending nearly five decades of Baath Party rule.
" For the sake of Syria and the resistance, it's better to accept the international consensus on a U.N. recommendation for the Syrian president to step down," Jumblatt stressed referring to the UN general Assembly resolution
Jumblatt described the city of Homs as the Stalingrad of Syria. "If it falls, then Syria would fall" and have an unknown fate.
The Battle of Stalingrad ( the city was also known as Leningrad and now St. Petersburg ) is considered by many historians to have been the turning point in World War Two in Europe.The battle at Stalingrad bled the German army dry in Russia and after this defeat, the German Army was in full retreat.