Arabs want Syrian opposition to unite before formal recognition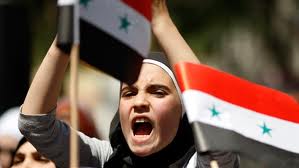 Arab countries will encourage the Syrian opposition to unite before they formally recognise them as a government-in-waiting, the foreign minister of Tunisia, which is hosting a meeting on Syria next week, said on Friday.
A year into the revolt against Syria's President Bashar al-Assad, the Syrian National Council (SNC) has emerged as the international voice of the uprising but has yet to show a real command over grassroots activists and an armed insurgency.
Doubts over the SNC's authority inside Syria have been brought into focus by a February 24 meeting in Tunisia of the "Friends of Syria," organised by the Arab League to try to build international momentum against Assad.
The SNC hopes that recognition from Arab countries would crown it as the opposition government-in-waiting, just as foreign recognition of Libya's National Transitional Council last year helped rebels who eventually ousted Muammar Gaddafi.
But the SNC controls no territory in Syria and not all Arab countries are convinced that it represents the full spectrum of Syria's opposition.
Asked if there was a move towards SNC recognition, Tunisian Foreign Minister Rafik Abdesslem said: "There is a move towards supporting dialogue among the different Syrian factions so that it is the effective representative of the Syrian revolution and representative of all parts of the Syrian people.
"If this representation happens and this level of Syrian national consensus is reached then we would have no objection to recognising the SNC … I don't think this position is specific to Tunisia, but one that includes Arab countries and many countries," he told a news conference.
NO MILITARY INTERVENTION
While senior SNC officials and independent Syrian opposition figures have said they will attend the Tunis meeting, Abdesslem said he did not expect the SNC to be officially represented.
"There will probably not be an official participation. It has not been decided but it is likely that they will not be officially represented at the conference," he said.
"There is a request to recognize the SNC and there is another view that says we open the channels of dialogue with all the Syrian opposition sides."
Tunisia, the birthplace of the Arab Spring uprisings, has been strongly critical of Assad. Earlier this month, it withdrew its recognition of the Syrian government and expelled Syria's diplomats from the country but has stopped short of inviting the SNC to replace them.
The expulsions have drawn criticism from some Tunisian opposition parties as well as unions and civil society groups and some have opposed the government's decision to host the Syria conference, fearing it will be used as a platform to launch an eventual Libya-style military campaign in Syria.
NATO led the campaign in Libya, acting under a United Nations mandate to protect civilians and France has recently floated the idea of setting up "humanitarian corridors" to ferry relief to towns bearing the brunt of Assad's crackdown.
Abdesslem said the conference would not take any decisions that undermined Syria's sovereignty or territorial integrity and that any resolution to the Syrian crisis would be Arab-led.
"We will not ask NATO to enter Syria for a key reason. We have said repeatedly and we repeat again that Tunisia will not be a party to any military intervention," he said.
"The objective from this conference is not to copy the Libyan example or any other examples. The main objective of this conference is to send a strong message to the Syrian authorities to stop the killing of civilians."
Reuters