Russia continues to shield Assad at U.N., report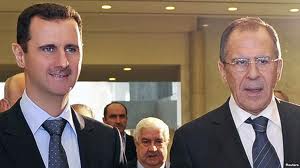 Russia's foreign minister said Moscow would not support any U.N. resolution "that could legitimize regime change" in Syria, but further talks to rework a Security Council resolution aimed at ending the violence there were planned.
French Foreign Minister Alain Juppe said earlier Wednesday that his country is trying to rework the resolution — with a focus on overcoming Russian resistance. Sergey Lavrov said he would meet Juppe in Vienna Thursday to discuss those efforts, but he would not comment on the French plan without having seen the language of the proposed resolution.
After a meeting with Dutch Foreign Minister Uri Rosenthal, Lavrov also welcomed the announcement by embattled Syrian President Bashar Assad that he had ordered a Feb. 26 referendum on a new constitution that would open the way to political parties other than the ruling Baath Party.
"A new constitution to end one-party rule in Syria is a step forward," Lavrov said. "It is coming late unfortunately but better late than never."
Syria troops hit Hama; Homs oil line attacked
Syria's Assad calls referendum on new constitution
Syria's opposition quickly rejected the referendum as another stall tactic and continued to call for nothing less than Assad's ouster.
Speaking on France-Info radio, Juppe reiterated France's hope that the council will reconsider creation of "humanitarian corridors" that would allow aid groups to reach Syrian areas that are facing "absolutely scandalous massacres."
Juppe said a planned U.N. General Assembly vote Thursday on Syria's bloodshed could have symbolic importance.
Russia and China both vetoed a Security Council resolution brought by the Arab League earlier this month aimed at halting Syria's violence — moves that angered many Western powers and Arab states.
Lavrov said if a new resolution was aimed at ending violence, "everything is possible."
However, he underscored Russia's position that any demand on the Assad regime to withdraw forces from cities torn apart by fierce battles must be matched by demands for opposition fighters to do the same.
"We all must act in sync and lean on all Syrian parties to stop fighting and to sit down and negotiate," Lavrov told reporters at a castle in this wealthy village outside The Hague.
CBS